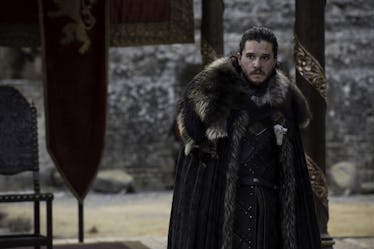 'Game Of Thrones' & MLB Are Teaming Up, So You Can Still Get Some Westeros This Summer
HBO
For the first time since 2010, there will be no new episodes of Game of Thrones on HBO this year. Due to the supersized lengths of the episodes and holding on filming until most of it could occur during actual winter, the final six episodes of the series won't be ready until 2019. So, what's a fan to do to get through our first spring (or summer) without a trip to Westeros? Would you believe the answer is baseball? Yes, Game Of Thrones and MLB are teaming up for the second year in a row to bring winter to ballparks around the United States.
At first glance, this doesn't seem like a natural match. Baseball boasts of being the country's pastime, a 19th Century pastoral game, with a reputation for being American as apple pie. In comparison, Game of Thrones is violent and cruel, set in a fictionalized world far away from America, where the seasons are unpredictable and games end in death.
But last year's experiment of having Major League Baseball hold Game of Thrones-themed nights at their stadiums turned out to be a smash hit, especially those timed to occur during the weeks when new episodes were airing in late July and August, when baseball season is hitting its zenith. With the promise of no Westeros at all this year, they've decided to do it again, so that fans starved for a fix have somewhere to turn.
From the press release, via Variety:
Last summer in conjunction with the seventh season of Game of Thrones on HBO, the partnership engaged thousands of fans across more than 20 MLB ballparks through a variety of creative cross-promotional activations designed by the participating Clubs, HBO, MLB and MLB's official licensees. Some of those fan-friendly specials integrating the iconic Game of Thrones themes known to millions included: MLB player and mascot bobbleheads, video board games, special food and drinks at concession stands, co-branded t-shirts and caps, GoT costume contests, Snapchat filters, and of course the appearance of the Iron Throne.
With no trailers in store for this year either, the MLB went one further and created their own video: "Baseball Is Coming." It might just be one of the best parodies of the Game of Thrones opening credits we'll get in 2018.
While the press release does not say what sorts of crossover ties will be happening in 2018, they highlight some of last year's more popular hits, which suggests these will be the sort of things we can expect this season.
The Thrones' visits to ballparks provided fans a one-of-a-kind opportunity to take personal photos and share them across social media platforms (#GoTMLB) and within MLB's Ballpark mobile application, commemorating their Game of Thrones experience like never before. Among the other dozens of fun Throne activations were San Francisco Giants manager Bruce Bochy conducting his post-game press availability on the 'Throne,' Hall of Famer Ozzie Smith posing in his trademark Cardinals red blazer, and Texas Rangers manager Jeff Bannister recreating his popular 'Throne' bobblehead giveaway.
Game of Thrones' eighth season, comprised of the last six episodes, are still busy filming in Northern Ireland and will continue to do so until summer. The final season is expected to arrive on HBO sometime in 2019, though no premiere date has been set yet. Until then, this looks like fans' best hope to take a trip out to Westeros. Where else can one eat a hot dog while trying out the Iron Throne for size?
Tickets for the slate of announced Game of Thrones single game dates are available for purchase at MLB's website. Game of Thrones' final season returns to HBO in 2019.