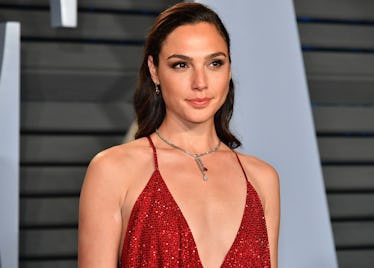 Gal Gadot & Dwayne Johnson Are Teaming Up For A New Comedy, So It'll Obviously Be Great
Dia Dipasupil/Getty Images Entertainment/Getty Images
Dwayne Johnson, who seems to have finally completed a full "Rock-ectomy" from his name since leaving the WWE, has become nearly ubiquitous at the box office. After a huge showing with Jumanji: Welcome to the Jungle at the end of last year, and then the ridiculous follow-up Rampage, the charismatic star is going back to work on a new comedy-action film. But this time, they're turning up the star wattage up to 11. News broke that Gal Gadot will star in Dwayne Johnson's Red Notice, putting two of the biggest and most popular action stars in the same two-hour film.
This film is from writer-director Rawson Marshall Thurber, who Johnson has now worked with twice. The first time, they produced the hit Central Intelligence, where Johnson shared the screen with Kevin Hart. The film was cheap to make (only $50 million) and grossed serious worldwide box office returns (in the $200 million range), making it an impressive money-maker for distributors Warner Brothers Pictures and Universal Studios.
The second, which arrives in July, is called Skyscraper. In this one, Johnson is paired with Neve Campbell. This will come from Universal again and, as it looks just as ridiculous as Central Intelligence, is expected to do well in the doldrums of summer.
With Johnson's success in Jumanji, the rights for this new film went to a bidding war, according to Deadline:
Universal Pictures won a heated multi-studio bidding battle in February that ended with a green light commitment in the biggest package deal so far this year. Red Notice will begin shooting April 2019 in Europe and Universal will release the film worldwide June 12, 2020.
This will be Gadot's first time staring in a non-DC Extended Universe film since being introduced as Wonder Woman in 2016's Batman vs Superman. According to reports, Thurber "flew to London for less than 30 hours just to pitch Gadot in person for the role," suggesting Universal really wanted to see this pairing happen on-screen after such a serious bidding war for the rights.
Red Notice got studios in a lather because it was regarded as another strong original IP idea by Thurber, in his third collaboration with Johnson, Hollywood's most bankable tent pole star. Thurber and Johnson most recently completed Skyscraper, which Universal and Legendary are releasing July 13.
It won't be Gadot's first time pairing with Johnson. The two of them have worked together before in the never-ending, always-drama-filled Fast and the Furious franchise.
As for who Johnson and Gadot will be playing, Johnson was previously described as "an Interpol agent tasked with capturing the most-wanted art thief in the world."
Gadot may, in fact, be that art thief Johnson is chasing. According to Deadline:
The film's log line is being kept under wraps, but it is described as a globe-trotting, action-comedy, heist thriller designed as a three-hander between Johnson, Gadot and another male star who'll soon be set. Gadot plays a brilliant and mysterious figure in the art world.
As mentioned, Johnson will be seen next in Skyscraper arriving July 13, 2018. Gadot's next film will be Wonder Woman 2, which is currently filming. The release date for it is Nov. 1, 2019, moved back from the original December release date after Star Wars' Episode IX was pushed back by six months. Johnson's sequel to Jumanji: Welcome to the Jungle is still currently slated for a December 2019 release, and despite the Star Wars competition, it will probably stay there, considering how well the December 2017 release of the first one did.
Red Notice will begin filming in April of 2019 and arrive in theaters worldwide on June 12, 2020.