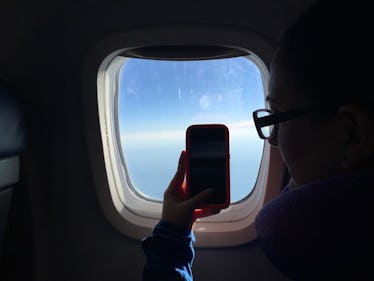 You Can Fly To Orlando For $18 During Frontier Airlines' Veterans Day Sale
If a vacation is on your holiday wishlist, then the Frontier Airlines' Veterans Day sale might just make all of your dreams come true. Right now, the budget airline carrier is running a huge flight sale. Certain airfares start around $20 for a one-way ticket. There is a promo code that you can apply to get up to 90 percent off of your next flight for a cheap getaway. These flight deals are only around for a limited time. The sooner you book, the better.
Frontier Airlines is known for its super affordable and wallet-friendly fares. This just might be the airline's best deal yet. In addition to offering low-cost fares, you can get up to 90 percent off of the cheap tickets. All you need to do is apply the "SAVE90" promo code when you get to the checkout screen.
Not all fares are eligible for 90 percent off. I plugged in a flight from Atlanta to Orlando, Florida. When I used the promo code, it didn't take off 90 percent. Honestly, though, the fare was only $20 to begin with ($23.20 after taxes and fees). The discount knocked off $4.50 in savings. The final cost for a one-way ticket from Atlanta to Orlando is $18.70. It's hard to even buy lunch for under $20 after you tip, but yet you can fly to Florida for the cost of a meal.
There are many other destinations included in this flight sale including:
Atlanta to New York City
Atlanta to San Francisco
Buffalo, New York to Fort Myers, Florida
Miami to Chicago
Denver to Pensacola, Florida
Chicago to Phoenix
Greenville, South Carolina to Las Vegas
There's more where that came from. Check out the Frontier Airlines Veterans Day flight sale to see if your dream destination made the cute. Oh, and don't forget to factor in the cost of luggage. You are allowed one free personal item (like a purse), but you will have to pay $35 for a carry-on or $30 to check your bag. These prices are only good when you buy them at the same time as your ticket. (You'll be prompted about bags as you navigate your way to the checkout screen.)
This sale notes more than a few particular travel dates, so plan accordingly. According to Frontier Airlines, travel is only valid on certain dates such as Nov. 14 and 28-30. Additionally, these flights can be used to travel Dec. 1, 3-6, 11-12, and 15. For January 2019, travel is valid on Jan. 8-9, 12, 15-16, 19, 22-23, 26, 29-30. For February, you can sneak off on Feb. 2 and 5-6 for a pretty affordable vacay.
There isn't much time left to plan your next vacay using one of these flights. The Frontier Airlines Veterans Day sale ends at 11:59 p.m. ET on Tuesday, Nov. 13, according to the airline's website. The discount is applied to the base fare and not on the taxes or fees. The promo code can't be redeemed on any third party travel sites, either. All flights must be booked on the Frontier Airlines website.
If you can make it work, this is seriously a super cheap way to travel. Time to book your flights and pack your bags, because an affordable adventure awaits.