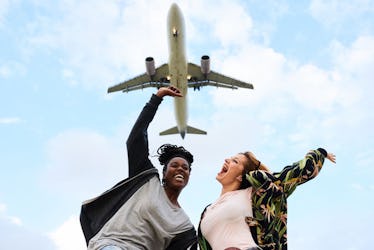 You Can Fly To Orlando For $15 During Frontier Airlines' Fall Flight Sale
You guys, I know that travel this time of year can be super expensive because of the holiday season, but there's a huge flight sale happening right now that you need to know about. Some of the destinations even include warm weather spots in Florida and California. If you're already tired of wearing your winter coat, I suggest you seriously consider booking a vacay during Frontier Airlines' fall flight sale. Just make sure you do it sooner rather than later.
All summer long I wished for the cooler fall weather. Now that it's finally here, well, I'm ready for the warmer temps. That's just how it goes. While Mother Nature isn't going to give me what I want anytime soon, Frontier Airlines might with its incredibly cheap flights. The budget airline's latest flight sale includes discounted fares as low as $15 to a few warm and sunny destinations. Seriously, it's hard to find lunch that costs less than $15 for the whole meal. In order to book one of these scary good flight prices, you need to do so no later than Wednesday, Oct. 31 at 11:59 p.m.
Before I dive into the deals, there are a few other stipulations regarding Frontier Airlines' fall flight sale that you should be aware of. Each $15 fare has a different travel date. Some flights are valid for travel on Friday, Nov. 2 until Wednesday, Nov. 14, while other $15 fares are only valid from Monday, Dec. 10 until Monday, Dec. 17, according to Frontier Airlines. Unfortunately, you won't be able to score an affordable AF deal for your flights home on Thanksgiving during this particular sale. The blackout dates for this Frontier Airlines deal range from Friday, Nov. 16 to Monday, Nov. 26.
Now, onto the fun part of this deal: The destinations. Like I said, if your winter coat is becoming cumbersome and your just plain over the cold, you can sneak off to jeans and t-shirt weather for just $15. One of my favorite flights from this sale originates out of Greenville, South Carolina. Right now, you can fly from the Palmetto State to Tampa or Orlando for the very low price of $15 each way. Yep, that's $30 for a roundtrip flight. No, it's not a typo. In these two popular Florida cities, the daytime weather is in the mid-80s, while the nighttime temps are usually in the low 60s. It's honestly the best of both worlds.
Both Tampa and Orlando are within an hour of beautiful Florida beaches, so make sure to book a rental car for your last minute getaway. You can still chill beachside with plenty of sunshine during the afternoon while enjoying a nice, cool breeze in the evening for a little taste of summer. (P.S. If you live in Knoxville, Tennessee, Lafayette, Louisiana, and Little Rock, Arkansas you can also score a $15 one-way flight to Orlando.)
There's one final warm weather flight deal to note. If you live in Atlanta or the surrounding area, you can fly to Sarasota, Florida for $15. This sits on Florida's Gulf Coast, so you can dip your toes in the warm water and take pretty pics of the white sandy beaches.
There are a lot of other flights that won't break the bank, either. Although, I can't promise warm, sunny skies at any of these other destinations. Here are a few other notable $15 fares from Frontier Airlines for you:
Albuquerque, New Mexico to Denver or Austin
Denver to Tulsa, Oklahoma or Albuquerque, New Mexico
Kansas City, Missouri to Raleigh, North Carolina
Las Vegas to Sacramento or San Jose
Myrtle Beach, South Carolina to Trenton, New Jersey
Just remember to book your flight on Wednesday, Oct. 31. The Frontier Airlines fall flight deal ends on Halloween and flights are set to disappear one minute before midnight.