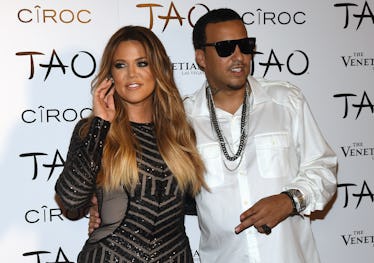 Khloé Kardashian's Ex French Montana Had Such A Sweet Message For The New Mom
Ethan Miller/Getty Images Entertainment/Getty Images
Khloé Kardashian is really feeling the love lately. Between cuddling with her daughter True and receiving gigantic flower displays for Mother's Day, the reality star is showing the world that she's all about love. And because her energy is so positive, she's getting so much love in return, even from old boyfriends like French Montana. Yep, the rapper sent his well-wishes to the new mom, which was super sweet. Curious about French Montana's message for Khloé Kardashian? Here are some of the details.
French Montana was spotted by People on the red carpet for the premiere of Deadpool 2. When asked about Kardashian and her current boyfriend Tristan Thompson, the rapper sent nothing but love.
"I wish them both the best," Montana said, before stating he didn't wish to comment any further.
While his message was short and sweet, the fact that he sent his well-wishes to the new mom and her family is really special.
Kardashian and Montana dated very briefly back in 2014, but the two have remained close friends ever since. It's great that Kardashian's friends are wishing her all the best now that she's a mom.
Kardashian, who gave birth to baby True on April 12, has been having a rough few weeks. At the time of the baby's birth, Thompson had been implicated in a cheating scandal and Montana weighed in on the difficult situation when asked about it by TMZ:
Let me tell you something, man. I just want everybody to be happy, man. That's all we're promoting. So when there's negativity, I duck and move, papi. We're doing good, we're living good. We're healthy, we're wealthy.
At least Montana was classy about it. Good on him! It's clear that Montana truly hopes Kardashian is happy, regardless of her personal issues.
Meanwhile, Kardashian has spent the better part of the last month rekindling her relationship with Thompson. But that's not without its hiccups.
According to People, Kardashian reportedly spent Mother's Day alone in Cleveland, while Thompson was with his Cleveland Cavalier teammates in Boston.
A source close to Kardashian explained that the new mom is committed to making life in Cleveland work for her and her family:
Khloé is determined to show that she is happy in Cleveland. She's very stubborn when it comes to her life. Her family still disagrees with her decision to stay with Tristan, but they are trying to be supportive. They wanted Khloé back in L.A. for Mother's Day, but she's doing her own thing.
Elite Daily reached out to Kardashian's rep for comment on this report, but has not heard back at the time of this publication.
Additionally, Kardashian's family is reportedly unhappy that she's staying with Thompson given how he's treated her. Another source close to the Kardashian clan told People the following:
Khloé's decision to stay with Tristan has definitely caused friction. Her family hasn't visited her for weeks. It's been hard for Khloé, but she is doing what she believes is best for her family.
Ah, well. Not everything is smooth sailing all the time, but Kardashian seems up to the task. She's strong, smart, and resilient, so hopefully, she can manage her way through the personal issues currently plaguing her.
One way she seems to be doing that is by channeling her energy into her baby and her well-being. In a recent post to her app, Kardashian said she was gearing up to get fit again:
I'm actually proud of myself for not being as big as I assumed I would be, LOL — but I'm ready to start getting my body back and feeling mentally clear again. Bring on summer and the hard work — I got this!
She's definitely got a positive attitude about all this, so that's wonderful!