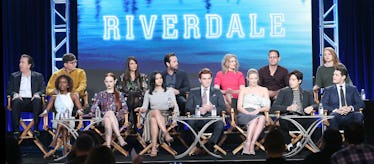 Follow The 'Riverdale' Cast On Instagram To Hold You Over Until The Season 2 Premiere
Frederick M. Brown/Getty Images Entertainment/Getty Images
The season two premiere of Riverdale is slowly creeping closer and closer, and fans everywhere are getting antsy AF. There are only so many teasers and sneak peeks to read online, people! That's why Instagram stalking each and every cast member is the only way to safely live without freaking everyone out over your obsession. It soothes the soul, and they all happen to be really, really attractive. Why follow some random IG model when you can follow Riverdale stars? So, everybody get out your phones, and follow these Riverdale cast members on Instagram right now.
Let's begin with everyone's favorite, Archie, aka actor K.J. Apa.
K.J. Apa
Apa, the New Zealand born heartthrob, is everyone's favorite. Whether you're a fan of the show or not, there is no denying Apa is one handsome hunk. Based on his adorable IG photos, the charming 20-year-old loves his friends, his dog, and his mom. How freakin' cute is that? Also, his mother is gorgeous. He clearly got his good looks from her. Let's go back to the dog, though. Apa's four-legged friend, Keo, is the cutest canine around. Keo was so popular among fans, Apa made him his very own IG account. Follow him: @kjapa and Keo @keo_da_haole.
Meet Keo.
Lili Reinhart
Who knew a teen-filled murder mystery TV show based on a comic book would be so utterly amazing? Although the fans and the cast were shocked by the overwhelming amount of success, Lili Reinhart has always kept her cool. The 20-year-old Ohio native has captivated audiences all over with her magnetic charm, and her take on Betty. We aren't mad about it. The actress mainly posts professional cast photos and model pics, but she's still cute as can be. Follow her: @lilireinhart.
What a selfie!
Cole Sprouse
Cole Sprouse, aka the kid from the film Big Daddy, is everything to every Riverdale fan. He's charming, he's adorable, and he plays famed character Jughead. We all love Jughead! Sprouse's Instagram mainly consists of his professional photography shots, but they're shockingly gorgeous. He's a true artist. Follow him @colesprouse to browse his powerful portraits.
Camila Mendes
Camila Mendes aka Veronica Lodge is the bomb.com. She's sassy, classy, and cool, and her fierceness is off the charts. This Brazilian beauty rocks selfies and flawless cast photos on her Instagram profile, and she gives us a much needed unique look inside her interesting life. Follow her: @camimendes.
Madelaine Petsch
Oh, what would we do without Cheryl Blossom? Madelaine Petsch was literally born to play Cheryl. She nails her role, and she totally channels her crazy. Cheryl, you cray. This natural redhead is a cast favorite and a total badass IRL. Let's dive deep into her IG. Follow her: @madelame.
Ashleigh Murray
Hello, Ashleigh aka Josie McCoy. The Josie and The Pussycats character is a sass and a half, and fans everywhere rejoice over it. All of the characters in Riverdale are so easy to love/hate, and Josie is one of them. It's a confusing feeling. This scene-stealing beauty has Riverdale fans in awe. Let's continue the adoration on her IG page. Follow her: @iamamurray.
Casey Cott
Casey Cott plays the charming and handsome Kevin Keller. I will never forget his iconic line, "Archie Andrews got hot!" Keller is underrated to some, but certainly not to all. It's rumored Cott will be appearing more in season two, so strap in, fans. Follow him on IG: @caseycott.
If this list didn't satisfy your deep obsession with Riverdale, the show returns to The CW on Wednesday, Oct. 11 at 8:00 p.m. Until then, get your sh*t together and binge watch the season two trailer again. You'll get through this.
Check out the entire Gen Why series and other videos on Facebook and the Bustle app across Apple TV, Roku, and Amazon Fire TV.