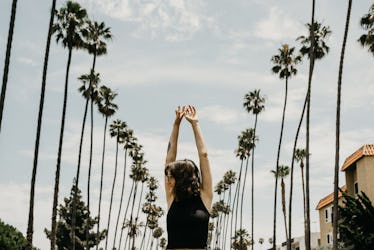 This Bus Takes You From Las Vegas To Los Angeles For Just $2.99, So Hop On
For some people, long bus rides sound like a total nightmare. Don't get me wrong, I totally get it — but traveling on a budget usually trades cash for comfort. You spend an inordinate amount of money to sit on a hot, crowded bus, it takes hours on end, and you feel like a literal sardine. Yeah, it's not quite my cup of tea, either. But you'll definitely get your bang for your buck with FlixBus' $2.99 trip from Las Vegas to Los Angeles, especially with all of the company's enticing — and free — amenities.
According to Travel + Leisure, a European bus company called Flixbus started offering tickets to West Coast travelers on May 15, and it's a total blessing in disguise. Flixbus offers super cheap bus tickets, such as trips from Las Vegas, Nevada, to Los Angeles, California, for only $2.99, from Tuscon, Arizona, to Palm Springs, California, for only $14.99, and from San Diego, California, to Los Angeles, California, for only $9.99. And the best part is that you'll no longer have to embrace that #SardineLife because these buses are luxurious AF. So get ready to kick back and relax.
A few amenities that every Flixbus passenger will be able to experience include free Wi-Fi, a choice of onboard entertainment that travelers can stream to their personal devices, LED lighting, up to 31 inches of spacious legroom, contemporary (and quite comfortable) seats, a tray table, a cup holder, and finally, a footrest. Travelers can also board with two pieces of luggage as opposed to the usual one small piece — and if passengers need to make changes to their trip, they can easily do so via the FlixBus app. It's easy and totally painless.
You're probably wondering why these bus tickets are so darn cheap, and how Flixbus manages to offer such glorious amenities. It almost seems like a fairy tale. But let me tell you — it's totally legit. According to Travel + Leisure, Flixbus is able to operate so efficiently because it runs using a network of coaches that are operated by local companies in each destination. This way, it can save on extra costs (such as parking and whatnot). The saved cash allows them to further invest in maintaining the buses and operate at a lower cost.
Pierre Gourdain, the company's U.S. managing director, told Travel + Leisure:
Instead of giving that money to advertisers, we give it to our customers, who we consider our most important stakeholders. We've seen tens of millions of people in Europe tell us that if it were not for FlixBus and the convenience and comfort they get, they would not have taken the trips.
Gourdain also goes on to say that he hopes Flixbus will help make travel more widely available. He values travel as a necessity, and believes it should be accessible to everyone.
Gourdain told Travel + Leisure, "Today we see many things as a given, from food to water and electricity, but we think that travel should also be a given too, so we wanted to find a way to give a better experience to everyone rather than just a few number of people."
FlixBus will reportedly offer 180 connections operated by six regional partners, which include Arrow Stage Lines, American Explorer Motorcoach, Gray Line Arizona, Pacific Coachways, Transportation Charter Services, and USA Coach Services during its initial U.S. launch. However, after Flixbus begins operating on May 31, the company will reportedly be working to expand its travels to about 1,000 locations across the country, hopefully by the end of 2018.
This is the first time Flixbus will operate in the United States, but it actually got its start in Germany five years ago. It's now the largest European bus network, and travels to more than 1,700 destinations in an impressive 27 countries. It's basically taking over the world, and I'm not mad about it. I'm honestly so hyped to hop aboard the Flixbus.