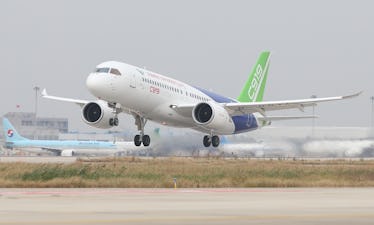 These Are The Airports You're Likely To Find A Date In, So Don't Fret About Flight Delays
VCG/Getty Images News/Getty Images
The holidays are here, and for the most part, you're either in a relationship or you're single. Sure, I know we live in the 21st century, and there's plenty of grey area around here, but odds are, if that person you've been "kind of casually seeing" since the summer STILL hasn't tried to cuff you, they probably aren't going to... so I'm counting you as single. But I come with good news! Apparently, finding love at the airport is a real thing, so you may be able to snag a new bae before you even make it home for the holidays.
Basically, using data from its Missed Connections feature (which basically uses your locations to eventually match you with other people who've been in the same locations as you) dating site Match.com found the top 15 airports for singles to meet someone across the United States. So check out the list and see if any of the 15 airports are places you're either traveling to or from this holiday season. LOVE COULD BE IN THE AIR, PEOPLE.
15. Charlotte
Flying to or from Charlotte this holiday season? Well, it may be last on this list, but it still MADE THE LIST, so you've definitely got a shot here.
Charlotte date idea: Channel your inner Ricky Bobby and check out the Nascar Hall of Fame together.
14. Seattle
If you're flying to or from Seattle this holiday season, you just might be lucky enough to have your own Sleepless in Seattle rom-com situation and find love.
Seattle date idea: Go to a sports bar and watch a Seahawks game.
13. Las Vegas
If you're lucky enough to be partying it up in Vegas this holiday season, there's a chance you'll be getting much more than a splitting hangover out of your trip. Yep, that's right, you could also be finding love.
Las Vegas date idea: GO TO A CONCERT. Whether you're into Celine Dion or Diplo, Vegas has plenty to offer you and your new date.
12. Houston Bush
Whether you're going to or leaving Houston for the holidays, there's a good shot you're going to meet someone at the airport, according to Match, so get excited for some good old southern lovin'.
Houston date idea: Check out some fish at the Downtown Aquarium.
11. New York LaGuardia
AH, THE BIG APPLE. THE CITY THAT NEVER SLEEPS. Now, it's also the CITY WHERE YOU WILL (maybe) FIND LOVE.
NYC date idea: Go look at the Christmas displays in the windows on Fifth Avenue, and then, go ice skating in Central Park.
10. Boston
OH, MAN. We've made it to the top 10, everyone. If you're traveling to or from Boston, there's a pretty solid chance you're going to meet someone ~special~ at the airport. Get excited.
Boston date idea: Go to a sports bar and cheer on the Patriots together. Boston strong, baby!
9. San Francisco
OMG, my home town airport! Full disclosure: I'm in a relationship, but I never made any love connections prior to that, so, like, here's to hoping you have better luck than I did.
San Francisco date idea: Walk across the Golden Gate Bridge into the Headlands and have a picnic.
8. Orlando
If you're traveling to or from Orlando, your body temperature may not be the only thing warming up in the Florida heat. YOUR HEART MIGHT BE GETTIN' A LITTLE WARM AND FUZZY AS WELL.
Orlando date idea: Disney World, duh.
7. Newark
If you have to book a flight to or from NYC and are having a hard time deciding between Newark and LaGuardia, maybe go with Newark. I say this for no reason other than that Newark is higher on this list. So, like, get it!
Newark date idea: If you're going into the city, see number 11. If you're staying in New Jersey, go check out a Jets game at the MetLife stadium! Better yet, don't even go to the game and just hit the tailgate.
6. Phoenix
Much like people in Orlando, people visiting Phoenix are also bound to have a little more than their body temperature rising. That's right, PASSIONS WILL ALSO BE RISING WHEN YOU FIND LOVE AT THE AIRPORT.
Phoenix date idea: Take a hike on Camelback Mountain!
5. Dallas/Fort Worth
In addition to being Vanilla Ice's home town, Dallas can now also be the place you find long-lasting loooooooooove.
Dallas date idea: Get in touch with your artistic side and hit the Dallas Museum of Art.
4. Denver
I've never been to Colorado and have always wanted to go, so for starters, I'm jealous of you. Moving on from that factoid, I'm also really excited for you to find love!
Denver date idea: Hit the slopes for a skiing or snowboarding sesh! Even if you don't know how, the two of you can learn together.
3. Los Angeles
TOP THREE, BABY. When you make like Miley and hop off the plane at LAX, the study shows you might be finding a whole lot more than a "Party in the USA"... you could also be finding love!
Los Angeles date idea: Be super annoying and take one of those celebrity home tours together.
2. Atlanta
OK, this is no joke, people. Atlanta's airport is the second most popular place to meet someone. That means SPARKS COULD BE FLYIN' FOR YOU.
Atlanta date idea: Check out the Atlanta Botanical Garden.
1. Chicago O'Hare
WE MADE IT TO NUMBER ONE. Chicago's O'Hare airport is the NUMBER ONE place to potentially meet someone. So if you're single, looking for love, and deciding between flights to O'Hare or Midway, I think you know what to choose.
Chicago date idea: Hit up the Christmas Market, and then, go ice skating in Millennium Park!
Check out the entire Gen Why series and other videos on Facebook and the Bustle app across Apple TV, Roku, and Amazon Fire TV.
Check out the "Best of Elite Daily" stream in the Bustle App for more stories just like this!