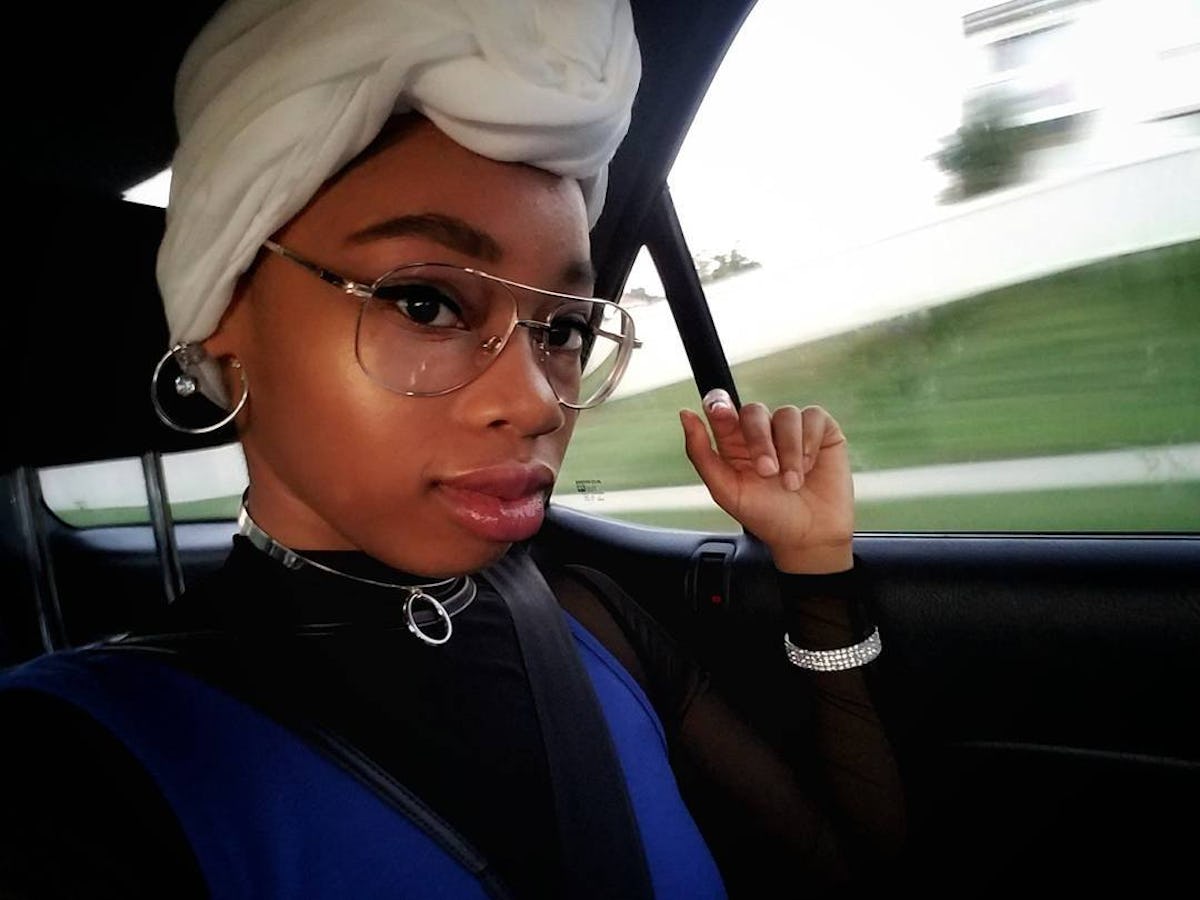 Fenty Beauty Held Up This Woman Who Thought Her Lips Were "Too Big" For Lipstick
Ever since its official launch in early September, Fenty Beauty has dominated the makeup conversation. Rihanna's latest enterprise has received praise for its commitment to diversity, going beyond token representation. Since launching a foundation line with 40 shades ranging from light to deep, Fenty has proven that inclusion is implemented directly into its brand. But more importantly, Fenty has shown that its commitment to its audience goes beyond basics and into developing a real community for black women to celebrate, enjoy, and discuss makeup. Just recently, the brand proved this, when Fenty Beauty rallied around a woman who thought her lips were too big to rock its bright red shade, dubbed Stunna Lip Paint.
On November 30, Fenty Beauty's Instagram page posted a picture of blogger Aysha Harun wearing Stunna. The bright red lip color has been the topic of conversation for weeks now, with fans eagerly anticipating its arrival so they could try out this "true red" for themselves. It was designed to look good on everyone, but when it came to themselves, some users weren't so sure. Underneath the photo of Harun wearing Stunna, Instagram user Grace Boye, under the name n0bleprincess, commented,
"I want to try this out soo bad. I've been told red doesn't suit me...my lips are too big."
Boye's comment was immediately followed by words of encouragement from other Instagram users, with some of them sharing their own stories of being bullied for having big lips or gap teeth. "I did not expect to get any type of reaction to my comment, all I was doing was sharing something that I've been told and learned to live with as an insecurity," Boye tells Elite Daily. "I didn't even know other black women have even dealt with the same thing. Sometimes, when we are told something from someone, we listen without speaking to anybody about these issues that seem small but are huge because it is our identity."
Even Fenty Beauty's official account slid into the conversation, commenting, "this red is for EVERYONE", before posting a screenshot on their Instagram page. "The #FENTYBEAUTY sisterhood is real!! We ❤️ ya'll," the caption read. It wasn't long before Rihanna herself was involved, commenting with heart emojis on the dialogue that ensued.
Though being told that your lips are too big may seem insignificant, or like a microaggression, it can usually mean something bigger. Boye's comment about herself reminded me of conversations I've had with friends and have seen blasted in the media. Back in 2013, A$AP Rocky received rightful criticism in media for saying, "I feel like the red lipstick thing all depends on the pair of complexion. You have to be fair skinned to get away with that." Boye long remembers her lips being a topic of discussion throughout her life. She told Elite Daily,
"I've been told I have big lips or asked why do I have big lips ever since kindergarten. I was bullied about my teeth because of my gap and my lips because of their size. Even when I left and lived in Saudi Arabia, I was still getting these questions and it built up to the other girls laughing at me. I always had a love-hate relationship with my lips and, as a Black woman, I did not know how to love myself until I turned 18 but that did not include my lips."
Black women have written extensively about their struggles to embrace bold lip colors and how we are shamed for specific body features, like big lips, that suddenly become desirable as long as they aren't on a black woman's body. Kylie Jenner has been one of the most recent examples of white women being praised for body features which were inspired by what black women were used to being shamed for. As black Muslim women, there is an additional level of policing of our bodies and expression that comes from both inside and outside of the community. I've had people be surprised that I wear makeup at all, as if Muslim women are one-dimensional characters who should somehow give up an interest in makeup if we decide to wear a hijab.
I asked Boye about her response to the overwhelming love the Fenty Beauty community showed her. "Hearing other people's stories made me feel more confident," Grace shared. "I realize that the issue I have wasn't only my problem. It is also a good thing that I know about these issues and that I am not alone in this. We, as black women, need to come together and talk to each other about whatever problem is keeping us down and empower one another, so we can know about ourselves and know that we are beautiful and we don't have to live up to society's beauty standards," she says.
Fenty Beauty has since sent Boye a red lippie in its signature shade "Stunna," and she now wears it with pride. She wrote on her Instagram page as she modeled the shade, "Thank you all for your support. Now that I am embracing my African culture, my blackness I feel ecstatic."
In the spirit of sisterhood, I asked Grace if there was anything that she wanted to say to black women who were going through something similar. "I'd tell them to talk to a close friend or someone they would trust with their word. I know sometimes we don't want to talk to a relative because we feel like they have a duty to tell us that everything is fine about who we are, but in reality, they are telling us the truth. They are our relatives, and them telling us that we're beautiful should mean a lot more than someone bringing you down. And if you find me, talk to me."
That's definitely a message we can get behind.