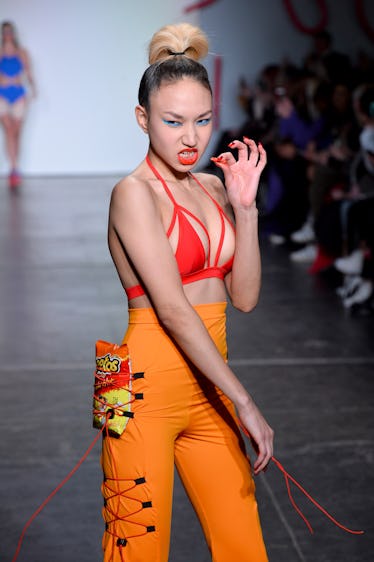 Pants With Built-In Slots For Cheetos & Red Bull Just Won Fashion Week & They're Flaming Hot
Noam Galai/Getty Images Entertainment/Getty Images
Fashion Week typically conjures up images of super-thin models, over-the-top fashion designs, and other things to which the general public can't relate. One designer is changing things up on her stage, though. This year, Fashion Week sent Cheetos down the runway thanks to Chromat's founder and creative director, Becca McCharen-Tran.
New York Fashion Week is in full swing and celebrities and models are running around the city in their highly photogenic looks, just waiting to pretend they don't notice or care about all the street-style photographers snapping their pic. Influencers and editors outside of the runways have become the show before the show, but McCharen-Tran of Chromat is out to get the headlines focused back on the catwalk itself.
The designer is usually known for her bondage-style sculptural designs. Beyoncé wore Chromat for her 2013 Super Bowl halftime show, Taylor Swift's "Bad Blood" video featured black leather getups by McCharen-Tran, and Nicki Minaj and Paris Hilton are fans too. All in all, Chromat is doing well for itself, but why not push the envelope a little further? Chromat just held its Fall 2018 show and in lieu of accessories like exorbitantly expenses purses that other designers show, McCharen-Tran gave her models something more affordable to carry (and crunch on) down the runway.
Model L'ka Tea was lucky enough to wear the show's fifth look down the runway, featuring a bondage-inspired orange bikini top and high-waisted orange pants with lace-up bungee chords on each side. Tea also killed it in the boldest of orange lips and bright blue eyeliner that I am weak at the knees for. Basically, it's a casual Monday morning at the office look, but wait...
What's that at her hip?
Tea toted a bag of Cheetos not only as an accessory, but as a delicious snack. The Flamin' Hot Cheetos were held securely in place in one of those handy bungee chords, and Tea theatrically ate one as she hit the end of the catwalk. Fun fact: Bella Hadid likes Flamin' Hot Cheetos, too, maybe it's a model thing?
Model Ese Otobo also carried fall's hottest new accessory, er, snack. Otobo didn't break into her stash like her fellow model Tea did, at least not on the runway.
A third model held and this time also munched on the spicy snack. The Flamin' Hot Cheetos really match her red look — dress, glasses, lipstick and all.
Some models carried Red Bull drinks in their mesh cargo pockets, you know, in case the other girls got thirsty from eating all the Cheetos.
Transgender model Jahmal B Golden carried a number Red Bulls. Golden's look was a blue bikini top and some comfy AF looking blue sweatpants. The show's signature red/orange lip looked heavenly on Golden as well.
In addition to the Cheetos and Red Bulls, Chromat's presentation was one of the most diverse fashion week runway shows yet. McCharen-Tran included transgender models, models of numerous different ethnicities, plus-size models, and so much more.
Models with disabilities are few and far between during fashion week, but this woman proudly showed off her prosthetic leg — and in heels!
Another member of the Chromat cast showed that you can model swimwear in a Hijab and look damn good while doing it.
McCharen-Tran's designs are no doubt a little out there, but her simple addition of Cheetos to some of the outfits is what really had people talking.
I vote genius. Except I can't handle spice so you may see me with a bag of regular ole Cheetos strapped to my leg, or Cheetos Puffs which are actually my favorite.
To the left, to the left.
#Deceased.
Same.