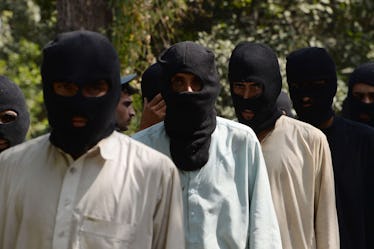 This Family Held Hostage By The Taliban Was Released After Five Years
NOORULLAH SHIRZADA/AFP/Getty Images
On Wednesday, Oct. 11, a family held hostage by the Taliban was released after five years of captivity. An American woman, her Canadian husband, and their three children — all of whom were born in captivity — were freed by Pakistani security forces. The Pakistan Army released the initial statement, which was then confirmed on Oct. 12, when the White House released a statement about the family's release.
Caitlan Coleman, 31, and her Canadian husband, Joshua Boyle, 33, were captured in 2012 by the Taliban, while traveling as tourists in Afghanistan, according to CNN. The couple was hiking in a heavily Taliban-controlled area, the Ghazni province. Coleman was pregnant when she was kidnapped, and the pair had two more children while held hostage. The exchange was made late Wednesday between the U.S. and Pakistani forces in secret, according to ABC News.
In the Pakistan Army's initial statement, they said U.S. intelligence agencies were tracking the family and shared intelligence with Pakistan when the family was moved out of Afghanistan and into Pakistan. According to CNN, the statement read,
The operation by Pakistani forces, based on actionable intelligence from US authorities was successful; all hostages were recovered safe and sound and are being repatriated to the country of their origin. The success underscores the importance of timely intelligence sharing and Pakistan's continued commitment towards fighting this menace through cooperation between two forces against a common enemy.
The group that captured the couple is believed to be part of the al-Qaeda-aligned Afghan Haqqani Network. This same group captured and held Army Sgt. Robert Bowe Bergdahl prisoner in June 2009 until May 2014.
Only days before the family was released, Boyle's family released a video, filmed by the Taliban group, to the Toronto Star and ABC News. The captors filmed and sent out a video to both families of the couple and their two children last January. At the time, the third child had not been born yet. While this video was sent to the family, no ransom was asked by the Taliban group. In this "proof of life" video, Boyle and his four-year-old son appear to be wearing the same clothes, according to ABC News, as in the last video posted on YouTube last December. In the recent video from January 2017 that was released on Oct. 6 by the Toronto Star. Coleman is holding their second child while her husband addresses the camera.
In the video, Boyle appears to be hopeful, saying,
Things here are going about as can be expected. But we were buoyed to receive your letter, and for the first time we have hope that things might wrap up soon, God willing.
Many are wondering if President Donald Trump was hinting at this release on Wednesday, Oct. 12. The president spoke to a crowd in Pennsylvania, which happens to be Coleman's home state, about respect for the United States, and he said,
Something happened today where a country that totally disrespected us called with some very, very important news. One of my generals came in and they said, 'You know, I have to tell you, a year ago they would have never done that.' This is a country that did not respect us, this is a country that respects us now. The world is starting to respect us again, believe me.
He finished with a comment about how Americans would "probably be hearing about it over the next few days." People are speculating that Trump's "very important news" was hinting at the release of this American family. If it was Trump, this is one of the few things that has looked good for the Trump administration, considering the Obama administration tried to negotiate a deal for the family's release, even in the last hours of his presidency, according to ABC News.
The Taliban is still holding hostages, including U.S. citizen Kevin King, 60, and Australian citizen Timothy Weeks, 48. The two were working teachers at the American University of Afghanistan in Kabul in August 2016 when they were kidnapped.