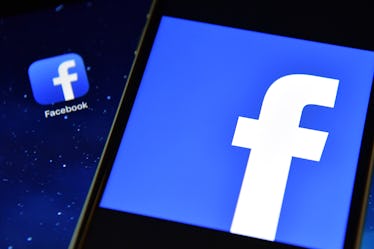 Facebook Is Testing A New Feature That Would Totally Change Your Newsfeed
Carl Court/Getty Images News/Getty Images
Facebook is in the headlines a lot these days. The most recent news about the OG of social media has been less than awesome. First, there was the revelation that Cambridge Analytica had allegedly mishandled millions of users' information, and then Facebook co-founder, Mark Zuckerberg, spent two days in mid-April in Washington D.C. testifying before Congress about the alleged incident. Well, there is some more Facebook news to uncover, but this information is (hopefully) less controversial. Facebook is testing a new "downvoting" feature, but you might not see it on your app if you're not in Australia or New Zealand.
The new feature is in a test phase with certain Pages in Australia and New Zealand, according to a Facebook spokesperson. The test feature isn't exactly a "dislike" button, but it does allow users to upvote comments they like and downvote comments they aren't so fond of. Per an emailed statement about the test feature from a Facebook spokesperson,
Facebook is a place for free expression, but we also recognize that there should be a way for people tell us and each other which comments are most thoughtful and useful. To that end, we're running a test that introduces an upvote and downvote action for comments on large public Page posts ... This feature allows people to push those thoughtful and engaging comments to the top of the discussion thread, and to move down the ones that are simply attacks or filled with profanity. This does not affect your personal News Feed or interactions with friends.
Screenshots of the latest test feature began popping up on Twitter from users in Australia and New Zealand on Sunday, April 29.
A screenshot of the feature on Twitter shows an apparent explanation of how the feature works. It says the voting is there to "support better comments." To use it, it says, "Press the up arrow if you think a comment is helpful or insightful. Your input is anonymous." Finally, this is the solution you've been waiting for. You can now give your input (in the form of an upvote or downvote) instead of resigning to rolling your eyes or engaging in comments-section battle.
Facebook wants to use this test feature to help facilitate meaningful interactions among its users. According to a Facebook spokesperson, "Public discussions are an important part of Facebook, and people have told us they want more ways to make sure those discussions are constructive — even when people might disagree with each other."
Users with access to the test feature weren't quite sure where the ability to upvote or downvote came from. You can see from the screenshot (and Facebook's explanation of the feature) that the ability to upvote or downvote is only available in the comments section of a Facebook post.
If you're familiar with Reddit, then you'll recognize Facebook's test feature as something similar to the method already employed on Reddit. Co-founder of Reddit, Alexis Ohanian, retweeted news of the test feature on Sunday, and he simply captioned it, "Flattered." Ooh, he is all about that shade.
According to Mashable, Facebook had previously tested a downvote and upvote feature back in February 2018. At that time, Facebook reported to Mashable that only five percent of Android users in the United States were given the test feature.
Even though this latest test has been expanded to New Zealand and Australia, it's important to remember that not all the features tested by Facebook turn into a full rollout of an update. In the meantime, you can still react to comments and Facebook posts with the range of emojis present underneath the posts and comments. And if you're really hankering for some upvote and downvote action, you can always head to Reddit to get your fix.