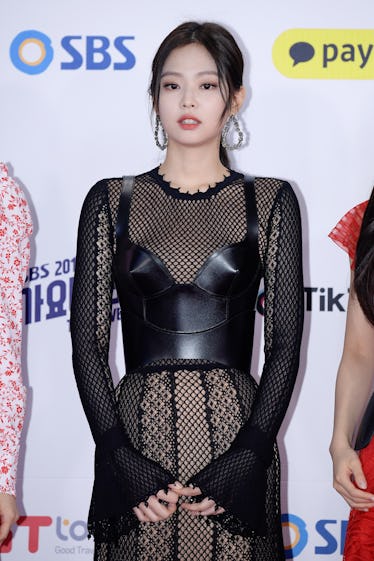 Fans Still Can't Get Over EXO's Kai & BLACKPINK's Jennie's Breakup Years Later
THE FACT/ImaZinS/Getty Images
Sometimes, things that start up very quickly also end just as fast, which was the case for two of K-pop's favorite artists, EXO's Kai and BLACKPINK's Jennie. Their agencies confirmed they were an item on New Year's Day 2019, but on Jan. 25, 2019, they revealed EXO's Kai and BLACKPINK's Jennie had broken up. The reported reason behind their breakup is so sad because their busy schedules were apparently to blame.
On Jan. 1, 2019, Dispatch reported Kai and Jennie were in a relationship, and as "evidence," the site posted photos they had taken of the stars seemingly on a late-night date in November. Kai's agency, SM entertainment, and Jennie's agency, YG Entertainment, later confirmed they were a couple, saying the two "have become fond of each other."
According to another report by Dispatch, the pair may have been seeing each other as far back as October 2018 when the two were both attending fashion week in Paris (NBD). Some internet sleuths even did a bit of investigating on social media and found that both Kai and Jennie traveled to the Eiffel Tower around Oct. 2 that year and took photos at the historic landmark. While it seems like anybody could have taken each of their photos (like a fellow EXO or BLACKPINK member), Jennie's caption read, "Had the most romantic dinner admiring the Eiffel tower 🗼❣️ #happyjen," so really, you tell me what you think was going down:
And here's Kai at the Eiffel Tower (posted only one day after Jennie's picture), for good measure:
Did they really think they were fooling anyone?
Fast forward to Jan. 25, 2019, when SM Entertainment released a statement to the press, confirming the couple had parted ways. At first, the statement noted specifics behind the breakup weren't yet known, but South Korean online platform Naver revealed those "close to the situation" claimed Jennie and Kai split up after four months of dating because of work. According to a translation by Koreaboo, the article stated the pair agreed the timing of their relationship wasn't right and they needed to separate in order to focus on their personal careers. Despite their split, Kai and Jennie decided to remain friends.
Han Myung-Gu/WireImage/Getty Images
The Chosunilbo JNS/ImaZinS/Getty Images
Naturally, fans on Twitter had a lot of ~feelings~ about the breakup.
Some fans were in true disbelief:
And others felt like fans should respect their privacy despite the sadness of the news:
Some fans also theorized Kai and Jennie's agencies played a role in their breakup. If you think that sounds impossible, it's not — after it was revealed in August that another K-pop couple, soloist HyunA and E'Dwan, were dating in secrecy for two years, their former label, Cube Entertainment, dropped them, citing a loss of trust as the reasoning.
Since then, Jennie has been linked to K-Pop superstar G-Dragon, who is a member of the YG Entertainment group Big Bang. The two have been friends for years, so fans never suspected they were romantic. They reportedly first met in 2012 when Jennie starred in G-Dragon's music video for "The XX." However, on Feb. 24, 2021, Dispatch reported Jennie and G-Dragon have been in a relationship for over a year. The stars' agency responded, "We can't confirm anything about our artists' private lives. We ask for your understanding."
No matter who they're dating now, fans will never forget Kai and Jennie because they were truly an iconic couple.
This article was originally published on