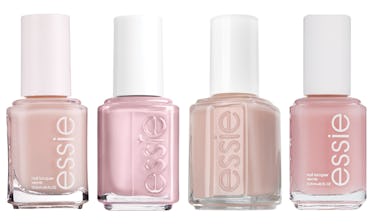 Essie Dropped A Line Of Bridal Nail Polishes, Just In Time For (Royal) Wedding Season
Essie
When I was planning my wedding, I started with my beauty look. I had my hair, makeup, and manicure picked out before I even went dress shopping. However, the hardest part of my entire beauty look was picking my nail color. I considered making my manicure my "something blue," but ultimately, I decided to go with a classic nude. To make the selection process so much easier for other brides everywhere, Essie curated a bridal nail polish collection of the most timeless, go-to shades for brides everywhere, and the best part is, you can even snag some for free.
Sometimes, I still wish I could go back and redo my wedding day manicure. I originally had this vision of a pale blue polish with a white lace print on my ring finger. I figured I'm a beauty editor, so I should obviously go all out with my nail art, right? However, I decided that I couldn't risk hating my wedding photos when I flipped through my album in 10 years. While I'm still obsessed with the idea now, trends come and go so quickly. I'd never want to look back and say, "What was I thinking?" When in doubt, I think it's better to go with the option that will stand the test of time.
I mean, take it from Queen Elizabeth II, a woman who has a style all her own. Fun fact: She's been wearing the same nail polish color, the cult-favorite Ballet Slippers ($8, CVS) from Essie, since 1989, according to POPSUGAR. While I encourage switching it up from time to time, one thing is for sure: Her Royal Highness' pale-pink mani will never go out of style.
Since we all deserve a mani fit for a queen, Essie and CVS Pharmacy teamed up to not only curate a collection worthy of royals, but to make it super accessible for every beauty junkie. Starting on May 3, CVS rolled out the Essie "Obsessie" loyalty program, which allows nail-polish lovers to buy four bottles and receive the fifth free when they purchase Essie polishes in store.
Not sure which five hues to choose? Luckily, Essie latest launch is an exclusive assortment of 10 iconic "wedding-worthy" shades that include the Queen's all-time favorite shade. From creamy white to sheer pink, brides (and aspiring brides) have the opportunity to stock up on the best neutrals from the brand's color library. See below for the entire collection:
Blanc — Shiny white
Ballet Slippers — Pale pink
Mademoiselle — Sheer nude
Sugar Daddy — Sheer pink
Minimalistic — Sheer pink
Muchi Muchi — Shiny pink
Topless & Barefoot — Classic nude
Clothing Optional — Pale gray
Eternal Optimist — Rose pink
Ladylike — Pink muave
If that lineup doesn't scream royal and wedding vibes at the same damn time, I don't know what does.
But the real question is, what will Meghan Markle choose to wear on her big day? If she wants to score points with her royal grandmother, perhaps she'll follow suit and choose Ballet Slippers. A part of me really hopes she goes with Essie's Blanc Nail Polish ($9, CVS), which is a shiny white shade. It's a fresh take on a neutral with a modern twist, without feeling completely inappropriate for a royal wedding. Plus, everybody looks great in a fresh coat of white nail polish. When I wear it, my hands look nice and tan, too.
Whether you're planning a spring wedding or not, make your way over to your local CVS and load up on the best neutral shades money can buy. And you won't even need to spend a fortune to get them all. If you're not planning upcoming nuptials, just think of how well all of these polishes would pair with your spring break bikinis.