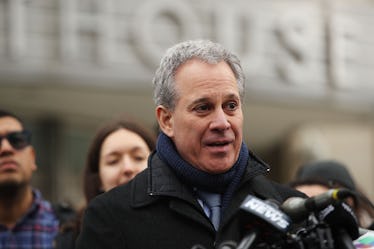 New York's Attorney General Is Resigning After Allegations Of Abuse
Spencer Platt/Getty Images News/Getty Images
Another politician is facing down allegations of misconduct and abuse. In the late hours on Monday, May 7, New York Attorney General Eric Schneiderman announced he would resign, just hours after the New Yorker published a piece containing allegations from multiple women who claimed he had abused them. In an initial statement, Schneiderman denied the allegations, saying that he had "not assaulted anyone" and that he had "never engaged in nonconsensual sex."
In the evening of May 7, the New Yorker published a story in which four women who had been romantically involved with Schneiderman accused the attorney general of abuse and assault, including instances in which he allegedly slapped or choked his partners, often during sexual encounters. All of the women characterized the violence as nonconsensual. Two of the women who had been in long-term relationships with Schneiderman claimed they sought medical treatment for injuries allegedly inflicted by Schneiderman, and also alleged emotional abuse as well as physical assault. Some of the women also alleged that he had threatened to kill them should they try to break up with him. Schneiderman's spokesperson has said that he "never made any of these threats," according to the New Yorker.
In his initial statement regarding the report, Schneiderman denied the allegations, saying,
In the privacy of intimate relationships, I have engaged in role-playing and other consensual sexual activity. I have not assaulted anyone. I have never engaged in nonconsensual sex, which is a line I would not cross.
But clearly the allegations and subsequent backlash from both the general public and the political world were serious enough to get him to resign. Shortly after the story broke, New Yorks Gov. Andrew Cuomo released a statement on May 7 calling on Schneiderman to resign "given the damning pattern of facts and corroboration laid out in the article."
Which is exactly what Schneiderman did. Not much longer after Cuomo released his statement, Schneiderman announced his resignation while saying that he "strongly contest[s]" the allegations laid out in the New Yorker story. His statement read,
It's been my great honor and privilege to serve as attorney general for the people of the State of New York. In the last several hours, serious allegations, which I strongly contest, have been made against me. While these allegations are unrelated to my professional conduct or the operations of the office, they will effectively prevent me from leading the office's work at this critical time. I therefore resign my office, effective at the close of business on May 8, 2018.
Schneiderman, a Democrat, has been a fervent opponent of President Donald Trump on multiple levels. Since Trump has taken office, Schneiderman has sued his administration over multiple issues, including Trump's travel ban, rollbacks of birth control coverage, and climate change. As of December 2017, his office had filed 100 legal or administrative actions against Trump's administration or Republicans in Congress, according to The New York Times.
What's more is that Schneiderman has been consistently and vocally supportive of the #MeToo movement against sexual harassment. In fact, he played a large part in the prosecution of Harvey Weinstein in New York. Following the New York Times and New Yorker reports accusing Weinstein of sexual abuse, Schneiderman filed a civil rights lawsuit against The Weinstein Company, Weinstein, and his brother Bob Weinstein, alleging "egregious violations of New York's civil rights, human rights, and business laws." (A representative of Weinstein said that "while Mr. Weinstein's behavior was not without fault, there certainly was no criminality," and that the allegations in the suit were "without merit.") Given Schneiderman's public image in terms of the Weinstein case specifically, it may come as a shock to hear these new accusations against the attorney general.
But now, Schneiderman has found himself on the other side of the coin in terms of being accused of pretty serious crimes. It's not clear whether or not the women that have come forward will press charges, but the adverse reaction from the report alone have seemingly ended Schneiderman's political and legal career.