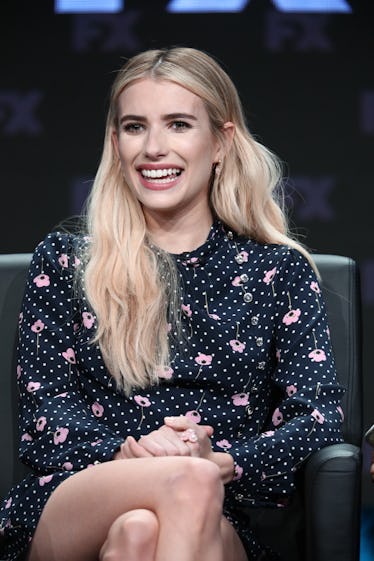 Emma Roberts Just Snagged The Lead Role In A New Netflix Series About Ice Skating
Frederick M. Brown/Getty Images Entertainment/Getty Images
Emma Roberts will be going from the Coven to the rink for her next big TV project. The American Horror Story alum is set to headline a series that focuses on the cutthroat world of competitive ice skating. Emma Roberts will star in Spinning Out for Netflix, where she'll play a skater on the rise named Kat Baker who suffers a terrible fall that could derail her Olympic ambitions.
According to Variety's synopsis, "Kat seizes an opportunity to continue her career as a pair skater with a talented bad-boy partner, she risks exposing a fiercely kept secret that could unravel her entire life. On and off the ice, Kat and her new partner will face daunting odds, injury to body and soul, financial sacrifice, and even potential mental breakdown on their way to realizing their Olympic dream."
Ice skating? Bad-boy partner? Fiercely kept secret? These are the phrases that spell out potential entertainment greatness. The role sounds like a spot-on fit for the endearing Emma, who's played ruthless and mercilessly type-A to perfection in the past. I have complete faith that a talented actress like her can at least fake a triple axel like no other.
Spinning Out is currently slated to stream a 10-episode first season. Samantha Stratton (The Arrangement) and Lara Olsen (90210) will serve as showrunners. A release date has yet to be revealed.
Emma Roberts has been acting since childhood. She made her big screen debut in 2001's Blow playing young Kristina Jung, the daughter of Johnny Depp and Penelope Cruz's characters. She went on to nab the lead in Nickelodeon's Unfabulous and 2007's Nancy Drew. Emma has dozens of impressive acting credits to her name since then, having appeared in films like Celeste & Jesse Forever, Nerve, and Scream 4. She's become a frequent player in Ryan Murphy's TV creations, such as FX's American Horror Story and the short-lived Scream Queens. She's currently part of the AHS: Apocalypse cast, reviving the unforgettable role of Coven's witchy Madison Montgomery. The year 2019 is shaping up to be a massive one for Emma's career trajectory. In addition to Spinning Out, she'll star in the movie Paradise Hills and is attached to the graphic novel adaptation Anya's Ghost. An avid reader, Emma is also the co-creator of the online literary club Belletrist.
"I still remember when I didn't get the part of Wendy in the movie Peter Pan — that was my only devastation," Emma told Allure in 2015. "And my mom said to me, 'OK, maybe you should stop, be in school, and focus on being a kid.' And I said, 'No! I want a shot at glory!'"
Emma cited a Pop-Tart commercial as her initial inspiration for getting into show business. That dream and the Peter Pan job may not have materialized, but she obviously found success through other endeavors. I have no doubt that there's plenty of professional glory ahead of her. Her upcoming role in Spinning Out already appears to be a skate in the right direction.