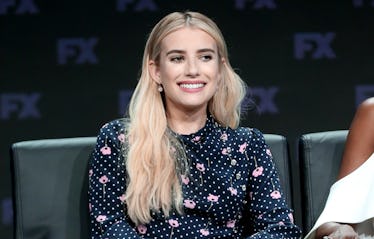 This Photo Of Emma Roberts As Madison Montgomery Will Give You All The 'AHS' Feels
Frederick M. Brown/Getty Images Entertainment/Getty Images
With pop culture finally catching up to the horror game Ryan Murphy's been serving since 2011, American Horror Story Season 8 may be the biggest year yet for the franchise. Not only has interest in horror series peaked with the return of Stephen King to small screens and large, but Murphy's long game of standalone stories which would eventually reveal themselves to be interconnected will pay off in a big way. Emma Roberts' first AHS: Apocalypse photo as her Madison Montgomery character from Season 3's AHS: Coven is here and she's resurrected and ready to rumble.
American Horror Story Season 8 (sub-headed Apocalypse) brings viewers back ton the very first season of the series, which was retroactively dubbed AHS: Murder House and crosses it with the third season, AHS: Coven. This means this year will be the pay off for the fans of the series who have been here since the beginning. Murphy will reward them with the return of the original cast, some of whom haven't been on the show since the very early seasons, like Connie Briton, who only was in the first season, Dylan McDermott, who was just in the first two seasons (Murder House and AHS: Freak Show), and Taissa Farmiga, who was last seen in AHS: Coven.
Emma Roberts, on the other hand, didn't joint he show until Season 3's Coven. Madison was the first character she played.
The caption reads:
Madison amongst the backyard bones at Murder House. AHS Apocalypse premieres Sept 12.
Considering Ms. Montgomery died not once but twice in Coven, it's not surprising she's back from the dead again and looking ready to hit the club. (Those boots!) Initially, she had her throat slit by Fiona Goode (Jessica Lange's character), only to be resurrected by Misty Day (Lily Rabe) with an assist from Zoe Benson (Taissa Farmiga). When viewers last saw this character alive, she was being strangled by Kyle Spencer (Evan Peters), for refusing to return the resurrection favor to Zoe after she was killed. (Don't worry, Zoe got resurrected anyway.)
People really like to go for her neck. No wonder she keeps it covered.
Madison's dead body wound up being added to the doll collection of the ghost of the creepy butler (Denis O'Hare). I suppose she just wasn't ready to be put on the shelf for good.
Caption:
Tate. Happy to be home.
At least Madison won't have to face her murderer, at least not in the guise of Kyle Spencer. Even Peters is in Season 8, of course. He's one of only two actors who has done every single year of the series, the other being Sarah Paulson. He's just playing his Murder House character, Tate Langdon, as Murphy posted in the Instagram above.
Other actors returning this season include Sarah Paulson, Lily Rabe, Frances Conroy, and Gabourey Sidibe, plus Jessica Lange, Kathy Bates, Adina Porter, Cheyenne Jackson, Billy Eichner, Leslie Grossman and Billie Lourd. Also, Stevie Nicks will return, once again as herself. Joan Collins joins the cast as the grandmother of Peters' character.
American Horror Story: Apocalypse returns to FX on Sept. 12, 2018.