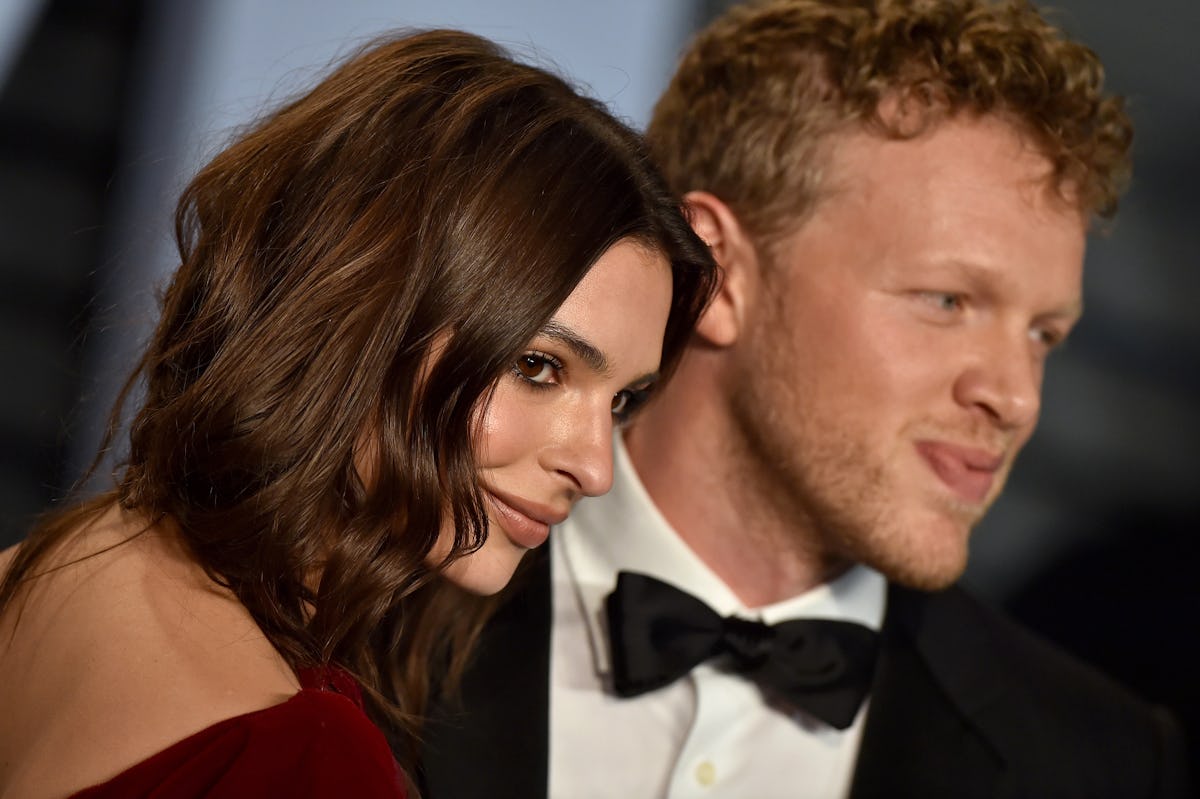 Emily Ratajkowski & Sebastian Bear-McClard's Astrological Compatibility Is Easy
Axelle/Bauer-Griffin/FilmMagic/Getty Images
Emily Ratajkowski and Sebastian Bear-McClard had the ultimate whirlwind romance. They were first spotted getting cozy on a date on Feb. 18, 2018, had a courthouse wedding on Feb. 23, and are now expecting their first child after two years of marriage. That may seem like a lot in a short span of time, but it all makes perfect sense when you consider Emily Ratajkowski and Sebastian Bear-McClard's astrological compatibility. When a couple of air signs come together, it's all easy-breezy.
Emily was born June 7, 1991, under the sign of Gemini, and Sebastian's birthday is Jan. 21, 1981, which makes him an Aquarius. The first thing you need to know about this pairing is that they'll never do anything conventionally. They're free spirits, free thinkers, and are unbound by concern over what other people think of them. Their timelines are going to be different than you'd expect, and the life that they create for themselves will be uniquely their own. This is just the kind of excitement they both crave, and to find it in one another bonds the two of them together, forever. Here's what else we can divine about their connection, based on their astrological compatibility.
They can talk to each other forever and never get bored.
Both Gemini and Aquarius are drawn to partners who can stimulate them on an intellectual level. Gemini is ruled by Mercury, the planet associated with communication, so they're imbued with wit and charisma. They also have a strong sense of intellectual curiosity that, if satisfied and challenged, is a huge turn-on for Aquarius. Aquarius is ruled by Uranus, the planet associated with revolutionary vision. They're free thinkers who see the world in unconventional ways, which fascinates and enthralls Gemini. The result is two people who can never quite seem to get enough of one another.
Emotions can be a bit tricky for them.
Because these two signs connect so easily on a mental level, the more emotional side of their relationship can sometimes be a bit more challenging for Aquarius and Gemini. When problems arise, both prefer to think through them logically, forgetting that sometimes the only resolution comes through feeling and empathy. Good intentions go far, but if these two are going to go the distance, they'll need to find a way to embrace their emotional sides as well.
They're up for any challenge as a team.
Aquarius and Gemini can make for a total power couple. With their quick minds combined, there's no problem that can't be tackled and surmounted so long as they are working as a team. Whether that's starting a business or starting a family, these two will take the challenge head on and find their own new, unique way of achieving their goals. Both of these signs sometimes get a bad reputation for not being team players, but what people don't get is that they need the right teammate who can speak their language and understand their need for creative space. In one another, they can finally find that.
Being a newly married couple and new parents can be challenging for just about anyone, but for an easygoing and creative couple like Emily and Sebastian, it should be a total breeze.