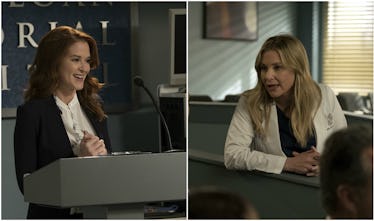 Ellen Pompeo's Instagrams For Sarah Drew & Jessica Capshaw Will Make 'Grey's' Fans Sob
ABC
Hardcore Grey's Anatomy fans must feel like they barely had any time to bid farewell to actresses Jessica Capshaw and Sarah Drew, whose impending departures from the series were announced in early March to the shock of viewers. The two women completed their last day of production on Grey's Anatomy this week, and now we can't avoid the fact that they're leaving sooner rather than later. In true Meredith Grey fashion, Ellen Pompeo's Instagrams for Sarah Drew and Jessica Capshaw will make fans sob — cue "How to Save a Life!"
Capshaw and Drew's last day on set coincided with Thursday's airing of the Scandal series finale, but Shonda Rhimes, creator of both shows, squeezed in tributes to her cast members amidst the Scandal celebrations. In an Instagram post honoring Drew's April and Capshaw's Arizona, Rhimes wrote:
I need to devote a whole day just to celebrate Jessica and just to celebrate Sarah. To tell you stories about their talent and to tell what I know about what their roles have meant. A social media post won't cut it and I will not minimize their magic by pretending it will. I have more to say. I will do so. For now I will just say how lucky we were to witness their talents and the magic they brought to their characters.
While Rhimes understandably seemed a little distracted by the Scandal finale, Grey's Anatomy leading lady Pompeo posted individual Instagram photos directed at Capshaw and Drew. While neither woman was an original cast member on the series, they're the next best thing given the show's longevity and frequent actor turnover. Arizona first appeared in Season 5, while April was introduced in the following season. Both characters were praised for symbolizing underrepresented people on TV, with Arizona identifying as a lesbian and April initially being extremely religious.
Pompeo may not write Meredith's monologues herself, but her caption-writing skills are definitely on par with Meredith's musings. In her note to Capshaw, she singled out Arizona's role in giving the LGBT community a voice on such a high-profile platform:
Thank you [Jessica Capshaw] for bringing it the way you have brought it for 10 amazing years...what a blessing you are and what a contribution you made to television history. Lit that screen up with your glow on the LGBT community... making a difference and making it all look so easy...
In her post for Drew, Pompeo touched upon the actress's success in portraying such extremities of the character's emotions:
You served up the sugar and spice for 9 years and it's been a blast. Your passion and talent for storytelling has touched so many people, provoked thought and Grey's is a better show because of it and you.
Pompeo's heartfelt messages also further snubbed rumors that her hefty pay raise was what forced Grey's Anatomy to fire Capshaw and Drew. There's clearly no bad blood here, and my vision of Shondaland as a place where fiercely real people just love and support each other is still intact.
Earlier in their last week of work, both Capshaw and Drew shared a photo of themselves with co-star Kelly McCreary. Drew wrote that the trio was having lunch together, while Capshaw chose to be nostalgic in her own caption:
It's like the last days of senior year in High School where you appreciate every moment and take pictures of everything you do...
While the exact details of Drew and Capshaw's exits are still under wraps, the theories that Arizona either leaves to conduct research or be closer to Sofia are slowly looking more likely. We've watched April spiral out of control for quite some time, but fans are hoping that a bleaker ending isn't in store for her.
Grey's Anatomy airs on Thursdays at 8 p.m. ET on ABC.