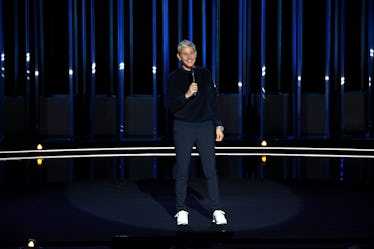 Ellen DeGeneres' Netflix Stand-Up Special Will Be Here Sooner Than You Realize
Netflix
A long time ago, back in the 1980s, there was a stand-up comedy craze that swept the nation. One of the comedians to come out of the era was a small blonde lady named Ellen DeGeneres. She eventually got her own sitcom, came out of the closet, then lost her career for it. It took five years before she reinvented herself as a top-rated talk show host. But with a new comedy boom on streaming, it seems like she's ready to return to her roots. Ellen DeGeneres' Netflix stand-up special Ellen DeGeneres: Relatable released a trailer this week, and marks her return to stand-up for the first time in 15 years.
The last time DeGeneres did stand-up comedy was 2003, just before The Ellen Show launched in September of that year, restarting her television career. For a long time, she stuck to just filming her talk show, as if she were worried about rocking the boat and losing it all again.
But DeGeneres has been branching out in the last couple of years from her comfy chair in the mid-afternoon lineup. Last year, she began hosting Ellen's Game of Games as part of NBC's primetime lineup, a game show so popular, it not only got renewed for Season 2, there's a supersized "Holiday Spectacular" airing later this month as well.
And now, she's doing stand-up again. Check out the trailer:
According to the press release, the special was filmed at Seattle's Benaroya Hall, and bears the tagline "She won't be using her daytime voice."
From the clips in the trailer, DeGeneres won't be shying away from her history in show business. She started her career in the early 1980s and was named The Funniest Person In America back in 1984. She spent many years on the comedy circuit, but as stand up comedy slowed down in the early 1990s, she moved into movies and television.
At this point, it's common knowledge that during during her original sitcom Ellen in the 1990s, she came out as a lesbian in the middle of the fourth season. In a life-imitates-art/art-imitates-life moment, she used Oprah's daytime talk show to come out personally, and then came out as her character in an episode the same week to a therapist played by Oprah. It was a groundbreaking moment, but it was too much for audiences, and the show was canceled almost immediately.
It took until the next century for Ellen to get back on TV, but since then, she's spent the last 15 years living the dream, not only playing daytime TV host, but also host for the Emmys, the Grammys, and the Oscars. All will probably be fair game as part of her act, but Ellen won't totally walk away from what made her career comeback. As the clips show, she'll still make jokes about harmless subjects like emotional support animals, being stuck in traffic, plus turning the jokes on herself and her Hollywood lifestyle (after all, the special is called "Relatable").
And, of course, there will be dancing. Ellen DeGeneres: Relatable premieres this month on Netflix on Tuesday, Dec. 18, 2018.