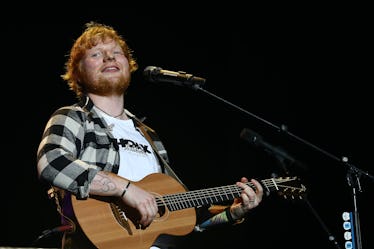 Ed Sheeran's iHeartRadio Award Performance Took Things In A Very Different Direction
Paul Kane/Getty Images Entertainment/Getty Images
On Sunday, March 11, the most popular names in music gathered at the Forum in Los Angeles for the iHeartRadio Music Awards, to celebrate the radio's biggest stars and hottest tunes. In a night filled with performances by Camila Cabello, Cardi B, the Backstreet Boys, and Maroon 5, Ed Sheeran's 2018 iHeartRadio Music Awards performance went in a different direction — literally, as he was stuck half a world away.
Sheeran snagged the award for Song of the Year. Sadly, he was stuck in Melbourne, Australia and couldn't make it to the awards show. But, he did video in and gave an intimate performance of "Perfect" surrounded by a "choir" of fans who sang along to the love song. It was pretty precious. Award show performances usually lean on the side of lavish, but Sheeran's was just him, an acoustic guitar, and a Melbourne street. Oh, and some adoring fans. It might be different, but it was completely and totally Sheeran.
Not only did Sheeran get a chance to perform at the award show, but he was also nominated for Best Song of the Year for "Shape of You" (he won, obviously), Male Artist of the Year, Best Lyrics for "Perfect," Best Cover Song for "Touch," and Best Music Video for "Shape of You." Is anyone surprised?
I mean, just check out the video of his show.
Sheeran is an absolute phenom who can't help but make hits, and 2017 was a big year for the red-headed singer/songwriter. After a year hiatus from life, erm, I mean social media, Sheeran resurfaced in March to reveal his third studio album Divide.
After all the fame Sheeran saw with his first two albums he just needed a break from it all. In a March interview, he explained to People that fame brought a lot of new people into his fold. Social media allows people a lot more access to stars than they once had, and sometimes the constant flow of people attributing things to you and constantly posting was too much for him, he needed a break between his life of fame and his actual real life.
"I needed to get away. I kind of eased back into life and reality," said Sheeran. "Life's all about balance, and I wasn't getting the balance right."
So Sheeran took some time off to travel to places where he didn't have that many fans, like Japan, so he could just be one of us, according to E! Online. After the Grammy winner was finished jetsetting, bungee jumping, and swimming with sharks, he decided to get back to work and record a new album... on a cruise ship. Yeah, you read that correctly. Sheeran had a custom studio built in the freezer room of the Queen Mary 2. Brr. (Benny Blanco, producer making the album, doesn't fly so they decided a ship would be a good choice. I mean, sure, I see the logic there.)
In March, Sheeran released Divide which featured instant fan-favorite "Shape of You." I literally still can't get that song out of my head. It's been like a year. I would say send help, but I'm not mad at it.
Also on the album is his performance song, "Perfect," which he also has a remix of featuring Beyoncé because Sheeran is not #blessed enough. "Castle on the Hill" is another radio smash and crowd pleaser. Then there's my personal favorite "Supermarket Flowers," a song dedicated to Sheeran's grandmother who was very sick while he was recording the album and passed away just as it was finishing up. Sheeran wrote the song as a tribute, but at the funeral his grandfather said that it had to make it on the album, so Sheeran decided to add it to the record, according to JustJared.
Okay, you'll have to excuse me for a minute because I am listening while writing this and the tears are coming. THEY ARE COMING.
Here cry with me in the meantime:
Okay, I am back. Wow. What an emotional journey.
Where was I?
Sheeran deserves all the awards that come his way. His catchy songs make us sing along and his more emotional songs pull at our heartstrings. Most importantly, I think every person on the planet wishes that Sheeran would serenade them with a beautiful love song he wrote especially for them. Or is that just me? No. I don't think so. Pretty sure it's universal.