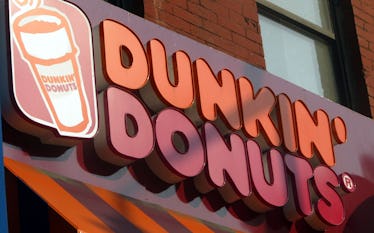 You Can Score A Free Dunkin' Gift Card On Cyber Monday, So Coffee's On The House
Mario Tama/Getty Images News/Getty Images
I love coffee, but I love it even more when it's free. Thankfully, Dunkin' Donuts' Cyber Monday deal is going to help customers score complimentary sips in honor of the spending holiday. Don't be fooled, though: Dunkin' isn't planning on giving all of its precious coffee away on the house. Instead, the company is running a promotion that'll give customers the opportunity to acquire $10 eGift Cards on the company's website. (When you think about it, $10 at Dunkin' will get you far — so this is a big deal, guys.) If you're wondering how to score your own $10 eGift Card, I'll show you. The process is super simple, but you will need an internet connection before you begin.
Why will you need internet, you ask? Well, because this Dunkin' promotion is only taking place online, hence the term, "Cyber Monday deal." For those of you who are unaware, Cyber Monday falls on Nov. 26, 2018, and that's exactly when Dunkin's promotion is going to begin. Once Nov. 26 rolls around, Dunkin' customers can score their own $10 eGift Cards online. They won't be able to simply log onto Dunkin's website and get their card for free, though. Instead, they'll have to purchase a separate Dunkin' Gift Card online worth $25 or more before they get their own, according to a Dunkin' spokesperson.
In other words, if you go online and buy $25 worth of Dunkin' Gift Card for your friend, you'll get a free $10 eGift Card for yourself. It's a total win-win.
I know: This might seem like it's too good to be true, but I promise it's not. However, you should know all of the details about the promotion before you make the trek to your closest Dunkin' store to purchase a gift card for your friend.
According to a Dunkin' spokesperson, you can only land a free $10 eGift Card if you purchase a gift card or cards worth $25 or more on Dunkin's website. In other words, don't buy a gift card at your local Dunkin' restaurant and expect a $10 eGift Card in return. You should also keep in mind that the promotion won't work if you try to buy Dunkin' Gift Cards from third party locations or in bulk. (So, again, stick to making purchases on Dunkin's website.)
If you're going to partake in the promotion, you should also know about the time restrictions. As you already know, you can buy a Dunkin' Gift Card online starting on Nov. 26. But if you don't make a purchase on Cyber Monday, don't panic. According to a Dunkin' spokesperson, the sale will take place until Dec. 24, 2018 (or while supplies last). Once you make a purchase and land your complimentary card, sit back and enjoy your coffee. There's a limit of one $10 eGift Card per customer, so don't expect to score another.
Once you get your $10 eGift Card, you must redeem it by Jan. 31, 2019 in order to take advantage of the discount. When you think about it, that gives you a majority of the cold season to sip on complimentary cups of Dunkin' coffee. Plus, whoever you originally bought a gift card for will be just as stoked about the free sips.