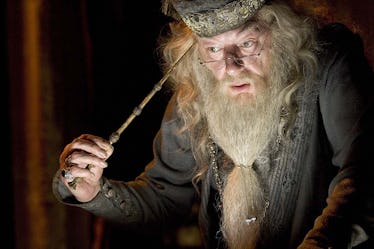 Dumbledore's Quotes About Grindelwald In 'Harry Potter' Clear Up A Lot About Their Past
Warner Brothers
J.K. Rowling is not only famous for writing the Harry Potter series, but for everything that came after. The revelations about characters after the series was done, the added diversity after the fact, the yearly apologies for killing off characters. But none is so controversial as her revelation of Dumbledore's sexuality and his relationship with Grindelwald. Lost in all this though is what exists on the page. Dumbledore's quotes about Grindelwald in Harry Potter may not precisely confirm or deny what happened between them, but it does clarify their past.
All of these quotes are pulled from the final novel, Harry Potter and the Deathly Hallows. Though there are references to Grindelwald and Dumbledore throughout the series, beginning with that very first train ride to Hogwarts, Dumbledore does not directly address the subject until Chapter 35, "King's Cross Again." This scene, which takes place in a sort of limbo, sees Dumbledore confess to Harry all his faults, including how foolish he was in siding with Grindelwald as a teen.
However, because Dumbledore is talking to a teenager who is his student, and discussing it in a parental type way, he does not, ever, explicitly define the relationship. It's in the subtext, as they say. In the feeling, and the realization many times what we do for love can be terrible.