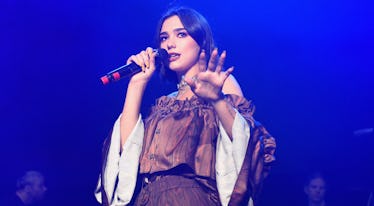 Dua Lipa May Sing 'James Bond's New Theme Song & I Seriously Need This Right Now
Nicholas Hunt/Getty Images
There are a number of things considered iconic within the James Bond film franchise: universally recognized sayings like "Shaken not stirred" and "Bond. James Bond," a perfectly tailored suit equipped with secret spy gadgets, and of course, a huge, belting theme song. Who will sing the theme song has become almost as big a question as who will play the new iteration of James Bond in recent years, and now it sounds like we have an answer. Dua Lipa may sing the new James Bond theme song, according to some new insider intel from the music biz.
Dua Lipa has been rumored to be the first choice for the new James Bond theme for several months now, but musician Mikey Goldsmith of the band Years & Years just spilled the beans and confirmed the rumors during a recent interview with BBC Radio 5. Goldsmith admitted that he thought the James Bond team would consider Years & Years to record the theme song for the upcoming movie Bond 25, but then they went with Dua Lipa instead:
I thought they'd ask us to do the theme song, but alas I think it's Dua Lipa doing it ... Am I not supposed to say that? That's what I heard. I feel bad now. Maybe I've ruined everything.
Mikey Goldsmith's statement seems to confirm the rumors that Dua Lipa will indeed be singing the theme song for Bond 25, which is not due out until the end of 2019. The rumors began bubbling up a few months ago, and Dua Lipa finally addressed them herself in May, telling Billboard that she would love to do it, but had not been contacted at that time. Goldsmith said that he got the intel from his friend Ben Whishaw, who plays Q in the current James Bond films. Goldsmith lent even more validity to his statement by saying that he knew Radiohead was recording the theme for 2015's Spectre before it was announced... although the creatives behind that film wound up rejecting Radiohead's song in favor of Sam Smith's "Writing's on the Wall."
If Dua Lipa is indeed the artist recording the theme for next year's Bond 25, it could become a massive boost to her career. The pop singer garnered success across Europe when she first broke through in 2015, but it was not until her single "New Rules" was released last year that Dua Lipa really established herself on United States music charts. She has quickly become one of the most played artists on American radio thanks to the success of follow-up singles "IDGAF" and "One Kiss."
But while she already has commercial success, this James Bond song has the potential to earn Dua Lipa her first major award. The two most recent James Bond themes (Adele's "Skyfall" and Sam Smith's "Writing's on the Wall") were both awarded an Oscar. The trend could very well continue with next year's Bond 25 theme.
We will probably be waiting a pretty long time before we get official confirmation about the new theme song, because Bond 25 is not hitting theaters until Nov. 8, 2019.