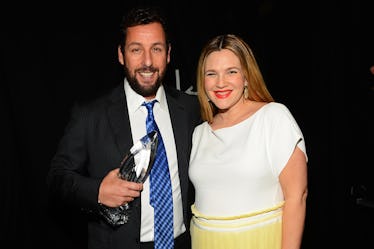 Drew Barrymore & Adam Sandler Are Planning Their Next Movie & You Know It'll Be A Good One
Mark Davis/Getty Images Entertainment/Getty Images
Before Emma Stone and Ryan Gosling were everyone's favorite recurring onscreen duo, Drew Barrymore and Adam Sandler were a slightly goofier version of that beloved, constant movie couple. The two first played opposite together in 1998's The Wedding Singer, later reuniting in 50 First Dates in 2004 and Blended in 2014. In case you were worried that we've seen the last of their onscreen partnerships, don't freak, because Drew Barrymore and Adam Sandler are planning their next movie and it's sure to fit their current stages in life.
Recently appearing on Watch What Happens Live With Andy Cohen, Drew Barrymore revealed on the after show that she and Sandler constantly text about what kind of movie they should do next. I'm guilty of dream-casting movies too, but it's good to know that people with actual power to make films do it, too. Talking to Cohen, Barrymore joked that by the time she and Sandler come together for another movie, they'll be so old that their plot options could be severely limited:
Adam and I text all the time about our next thing, and we're like, 'We're so fat. We're so old. What the f--k?' Like, literally, the last thing I suggested to him was like 'On Golden Pond question mark.'
On Golden Pond was an Oscar-nominated 1981 film starring classic Old Hollywood actors Henry Fonda and Katharine Hepburn as an elderly couple. Grace and Frankie star Jane Fonda, Fonda's real-life daughter, also starred as the couple's daughter in the film.
Cohen and fellow guest Timothy Olyphant were totally dedicated to seeing that kind of remake happen, and they squealed over the idea so much that I had delayed excitement about Barrymore's follow-up idea. TBH, I'd much rather watch a movie starring Sandler and Barrymore that was like Planes, Trains and Automobiles, and so would Barrymore:
I'm into Planes, Trains and Automobiles with me and Adam on Netflix, except I'm like [the character] Del Griffith.
Barrymore pointed out in the interview that she and Sandler have worked together every 10 years. She likely misspoke, because there's only a six-year gap between Wedding Singer and 50 First Dates, but based on those stats alone, a reunion has to be in the works:
Adam and I have done a movie every 10 years, three decades in a row. You cannot mess with that. We will do our 10-year at 40. We just haven't figured out what it is yet.
Both stars are currently working with Netflix, which could only improve the likelihood of Barrymore and Sandler working together soon. Barrymore and Olyphant were on Watch What Happens Live to promote their Netflix series Santa Clarita Diet, while Sandler signed a four-movie deal with Netflix in 2014.
Barrymore apparently sensed her long future with Sandler when she first met the comedian before they worked together. In a 2015 interview with Howard Stern, she said of their first meeting:
[I thought] 'I want to be a modern weird [Katharine] Hepburn, [Spencer] Tracy old Hollywood couple.' We looked like the worst blind date you've ever seen. I showed up with purple hair and a leopard coat and he was in his classic cargo pants. As soon as I saw him I was like 'Yeah, you're going to have to see past all this.' I said, 'I really believe that you and I could get together and do something meaningful.'
Earlier in her Santa Clarita Diet promotion tour, when on The Late Late Show, Barrymore listed Sandler as her most talented co-star out of a group including Jake Gyllenhaal and Hugh Grant. She's clearly ready to spread the love for Sandler whenever she can.
It may be a few more years until we see another collaboration between these two, but I'm so here for Barrymore's brainstorming.