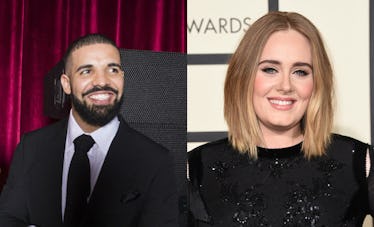 Drake Had The Best Reaction To Adele Coming To His Concert
Handout/Getty Images Entertainment/Getty Images/Jason Merritt/Getty Images Entertainment/Getty Images
Forget the album releases, red carpet moments, and insightful interviews. I think I speak for many celeb followers when I say that I'd much rather see a celebrity have a fangirl moment over a fellow star than any of that highbrow stuff. From seeing someone clutch their chest with joy to watching their eyes suddenly grow wide with shock upon being acknowledged by their faves... there's truly no better feeling. That's why I can't get enough of Drake's reaction to Adele attending his concert. If you missed it, let me be the first to tell you that the rapper got totally in his feelings for the "Someone Like You" singer, and it's arguably one of the best celebrity starstruck moments yet.
On Friday, Oct. 12, Drake kicked off his first concert of three scheduled to take place in Los Angeles, California and among the crowd was none other than the legendary, soulful crooner. After the show, Adele took to Twitter to effusively praise the rapper's performance and production, writing that the show ranked among "one of her [favorites] of all time." She topped off the post sending "huge love" to Drake, all of which appeared to send him over the edge, because when he caught wind of the post, he completely freaked out.
Drake followed up by posting a screenshot of Adele's post on his Instagram page, revealing that he's just as much of a fan as Adele's as she is of him and TBH, you can almost feel how excited and jittery he was when writing the caption. He exclaimed in the post,
Oiiiiiii don't f*cking get me gassed right now I love this woman and she came to the show Thank god nobody told me I would have been SHOOK.
You can see the hilarious/adorable/relatable AF interaction all in one place on the @commentsbycelebs combined post.
So, so understandable. Personally, Adele is only one of few singers who can make me wait for years for an album, and I'll be OK with it. Now, if we could just get these two to finally drop that long-rumored music collaboration, just so I can have something new to jam out to like:
Back in 2015, the 25 singer appeared on the Canadian outlet eTalk and expressed her hopes for a potential "Hotline Bling" and "Hello" remix. "I really want us to do an official remix. I love Drake. I love Drake so much," she explained. And she's not kidding. She told the show that while she was out celebrating "Hello" (her new single at the time), "Hotline Bling" got her so hype that she felt compelled to practice her moves right in the middle of the restaurant. "[My friends have a] video of me dancing to it on a coffee table as well." But her fandom doesn't stop there: She apparently loved the record so much that she went out and bought the very same red puffy jacket Drake sports in the video.
Meanwhile, Drake was just as excited about the potential collaboration, telling Toronto reporters at the time, according to People, "I'd do anything with Adele. I'd literally go to Adele's house right now and do laundry for her." Elite Daily reached out to both Drake's and Adele's representation for comment on a possible collaboration, but did not hear back at the time of publication.
Though the record never came to fruition, perhaps now that they've got their fangirling moments out of the way, it might finally materialize. Fingers crossed.