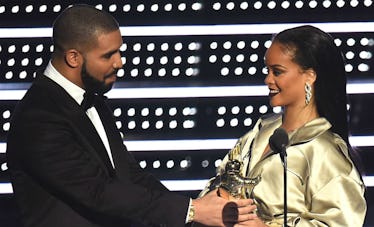 Drake Just Admitted He Wanted To End Up With Rihanna, Just Like His Fans Did
Michael Loccisano/Getty Images Entertainment/Getty Images
Drake is finally opening up about his ill-fated romance with Rihanna. And he wants all his fans to know that he wanted the relationship to work out just as bad as they did. In an appearance on LeBron James' The Shop, Drake talked about the relationship with a sense of openness and honesty. Drake's comments about wanting a "fairytale" life with Rihanna are so real and relatable.
Drake appeared on the Saturday, Oct. 13, episode of LeBron James' The Shop and opened up about all kinds of topics, including his relationship with Rihanna. According to Entertainment Tonight, the two shared an on-again-off-again romance between 2009 and 2016. And thanks to all that back and forth, Drake learned some hard life lessons that he imparted to the masses during his sit-down chat with James.
"As life takes shape and teaches you your own lessons, I end up in this situation where I don't have the fairy tale, like, 'Oh, Drake started a family with Rihanna and this is like so perfect,'" Drake said.
Going further to explain the situation, Drake acknowledged things between him and Rihanna weren't always as they seemed.
"It looks so good on paper," he continued. "By the way, I wanted that too at one time."
In May 2018, Rihanna opened up about one of the more awkward moments of her relationship with Drake: the 2016 MTV Video Music Awards. During the awards show, Drake made a love confession that left Rihanna feeling "uncomfortable."
"The VMAs is such a fan-focused awards show, so having that energy around me, and knowing the people who had received the award in the past, made it feel like a big deal," she said. "Waiting through that speech was probably the most uncomfortable part. I don't like too many compliments; I don't like to be put on blast."
She also said she and Drake were no longer friends. "We don't have a friendship now, but we're not enemies either," she explained. "It is what it is."
So, for both Drake and Rihanna, the relationship was a strange situation to navigate. Overall, though, both stars seem to have moved on. While Rihanna has been dating on and off, Drake has become a father. And he opened up about his son Adonis during his appearance on The Shop.
"I am a single father learning to communicate with a woman who… you know, we've had our moments, right?" he said. "And I do want to be able to explain to my son what happened. But I don't have any desire for him to, like, not love his mother… I don't ever want the world to be angry at his mother. We have found ourselves in a situation and we are both equally responsible, and now I'm just really excited to be a great father. I have a son, he's a beautiful boy."
While Drake may not have gotten the fairytale relationship he wanted with Rihanna, he did get a wonderful bundle of joy that he's eager to love and raise. So, I guess everything has worked out in the end!