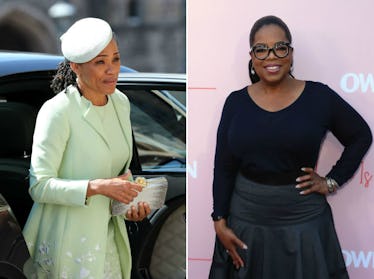 Meghan Markle's Mom Got To Hang Out With Oprah & Their Activities Were Surprisingly Normal
WPA Pool/Getty Images Entertainment/Getty Images; David Livingston/Getty Images Entertainment/Getty Images
If you're looking for a new celebrity friendship to obsess over, then I have just the one for you: Oprah Winfrey and Doria Ragland. Yep, the legendary TV host and Meghan Markle's sweet mother. Apparently, the two are on their way to having a great friendship, which is not at all surprising given that Winfrey was at that wild ride of a royal wedding just a few weeks ago. Just before the wedding, Doria Ragland and Oprah hung out at Winfrey's house for a nice lunch as well as some other activities. And Winfrey is good and ready to tell the world all about it.
As some of you may know, Winfrey and Meghan, Duchess of Sussex, are reportedly friendly. And Winfrey has also welcomed Ragland into her circle of friends.
Before Meghan and Prince Harry, Duke of Sussex, exchanged vows on May 19, Winfrey invited Ragland to her home. But, as with all things celebrity-related, people took that to mean that Winfrey was bribing Ragland with attention and gifts in hopes of being granted an interview. As if Ragland could be swayed by that! What a way to underestimate Meghan's mother.
Anyway, Winfrey decided to set the record straight in an interview with Entertainment Tonight's Nischelle Turner:
The story was that Meghan's mom had come to my house and she left laden with gifts. You know what the gifts were? First of all, she's great at yoga, so I said, 'Bring your yoga mat and your sneaks in case we just want to do yoga on the lawn.' So one of the bags was a yoga mat and the other was lunch.
And that's it, folks! A yoga mat and lunch.
But was that really all? According to Winfrey, Ragland also walked away with some fruits:
She said, 'I love kumquats,' and I said, 'I have a kumquat tree! You want some kumquats?' So it was a basket of kumquats, people. For all of the people who said I am getting her gifts and I'm trying to bribe her for an interview — they were kumquats. If kumquats can get you an interview, I'm all for it!
I love how Winfrey is not having it with these ridiculous rumors. And by telling the whole truth of their day together, she's really defending her integrity as well as Ragland's. Amazing!
It's really unfortunate, though, that anyone would think Winfrey would bribe someone like Ragland for an interview about their own child. Obviously, both ladies are way more respectable than that!
During her red carpet interview with ET, Winfrey also explained her thoughts on the royal wedding as a whole and how it was more of "cultural moment" than a personal one:
It was more than a wedding, I thought. It was a cultural moment. And you could not be there or watching on television … and not feel that there was a shift that just happened in the middle of it … I think it's bigger than them and I think it bodes well for hope for all of us.
During the same red carpet event, which was held for Winfrey's new series Love Is _, the 64-year-old told Extra that the wedding left her feeling "hopeful":
It felt like another level of everything. It felt like more than a wedding. It felt like a shift in culture. I left more hopeful.
She's probably right that the wedding symbolized a cultural shift. And she's definitely right on the money in saying that it gave lots of people hope for the future. It was certainly a special day and I doubt people are going to forget it anytime soon.