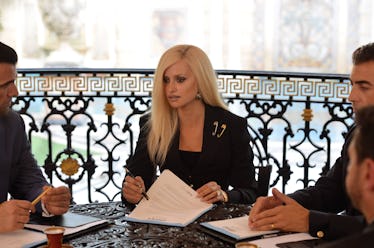 Donatella Versace's Net Worth Is Even Higher Than You Think It Is & That's A Lot
FX
When Gianni Versace was murdered in 1997, he had spent a lifetime trailblazing. He launched his own eponymous fashion line in 1978, and spent the next two decades linking the fashion and music worlds. He brought a rock and roll sensibility to the catwalk, and expanded his empire to encompass everything from perfume to handbags to accessories to makeup to home decor. When he was killed, his sister, Donatella, took over the label's design work. So, how much is Donatella Versace's net worth, now that she's been running the show for two decades herself?
It's both higher than you might think, and yet not nearly as high as it could be. Donatella and her brother Santo were in a depute over who was more important to the brand when Gianni died. So, Gianni split 50 percent of his empire between the two of them (30 percent to Santo, 20 percent to Donatella), and then left the rest to Donatella's daughter, and his favorite niece, Allegra Versace.
This certainly gave Donatella reasons to make sure the brand stay successful, so that her daughter would inherit a fortune when she came of age. But it also means that the now 31-year-old Allegra is worth $800 million, while her mother, the face of the brand and the hand behind the designs these last 20 years, is only worth $200 million.
Donatella, according to lore, did not originally plan to be a fashion designer. When she followed her brother into the fashion world in the 1970s, it was with plans to be his public relations person. It was Gianni who supposedly saw that she had real talent, and gave her her own brand within the growing Versace empire in the 1980s. By the time of his death in 1997, she had her own label, Versus, which was quickly folded back into the empire when she took over as Fashion Director upon her brother's death.
Donatella began her run as the designer and face of Versace in 1998, a year after her brother's death, staging her first show at the same Hôtel Ritz Paris he always used. But it wasn't until two years later, when Jennifer Lopez famously wore the green, see-through Versace gown to the Grammys, that the line found itself once more a household name for the clothes instead of the family drama.
Over the course of the next decade, Donatella rebuilt the brand, partnering with everyone from the high-end Lamborghini to release a "Versace" branded automobile, to the far more accessible retailer, H&M. There's even a chain of Palazzo Versace hotels. Her talent for public relations came in as handy as her talent for design.
The portrayal of Donatella in the upcoming The Assassination of Gianni Versace: American Crime Story on FX is not the first time she's been portrayed on TV. Her signature blonde 'do and her high-flying lifestyle have made her an easily recognizable (and sometimes parodied) figure. She's played herself in films like Zoolander, and was a key figure (though off-screen) in The Devil Wears Prada. Both Saturday Night Live and Ugly Betty have done parody versions of her.
She was played by Gina Gershon as "Fabia" in the Ugly Betty parody version and then in a more serious way in Lifetime's House of Versace made-for-TV movie. Penelope Cruz plays her in the new American Crime Story, but such is the fashion designer's influence that Cruz felt she had to get Donatella's blessing before taking the part. Now that's the kind of pull money can't buy.
The Assassination of Gianni Versace: American Crime Story airs Wednesday nights at 10 p.m. ET on FX.