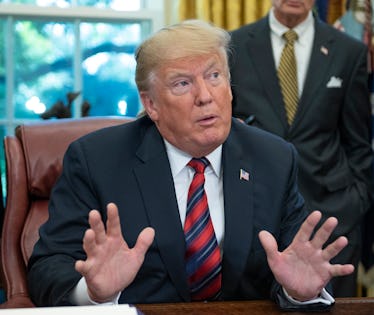 Donald Trump Tweeted About Protecting Pre-Existing Conditions, But There's A Problem
Pool/Getty Images News/Getty Images
The midterm elections are right around the corner and President Donald Trump is on the frontline trying to keep Republicans in office. But one of the things that's become an issue in the election is the future of the Affordable Care Act (ACA), aka Obamacare, in the hands of Republicans. While the president aimed to ease the worry on the morning of Oct. 24, Donald Trump's tweet about pre-existing conditions and Republicans has a major problem.
With Election Day coming up, both parties are making a final effort to draw voters to their side, and major legislative policies have become further talking points. The ACA is increasingly popular in polls, with a recent Fox News poll showing that public approval of the health care policy was at an all-time high at 53 percent. So despite repeated Republican efforts to repeal the legislation, on Oct. 24 Trump attempted to promote Republicans as champions of one of the most popular parts of the legislation, protections for pre-existing conditions, in an apparent bid to to drum up support for the Republican party. "Republicans will totally protect people with pre-existing conditions," the president tweeted on Oct. 24. "Democrats will not! Vote Republican."
In addition to his Wednesday tweet, the president also said from the White House on Oct. 18, "We totally support people with pre-existing conditions" according to The Hill. However, there's one major problem he might have forgotten about. In the almost two years since Trump took office, Republicans have repeatedly tried to repeal the health care law. To boot, Trump's Justice Department said in federal court in June that it would not defend provisions of the health care law that block insurers from charging higher rates — or even refusing to cover — people with pre-existing conditions, per the New York Times. Elite Daily reached out to the White House for additional comment on Trump's tweet, but did not immediately hear back.
The DOJ's stance is from a lawsuit, filed by 20 states and backed by the White House, claiming that the individual mandate of the ACA is unconstitutional because the government can't force people to buy health insurance, according to the Times. Beyond pre-existing conditions, the ACA currently requires insurance companies to cover 10 "essential" health benefits, including hospital care, pregnancy and childbirth care, and prescription drug coverage.
As early on as the 2016 campaign trail, Trump made it clear that he was gunning to repeal Obamacare. Through numerous tweets and campaign rally speeches, he promised to "repeal and replace" President Barack Obama's health care act, at times even calling it a "disaster." At the president's side, the Republicans who were working to repeal the ACA, which would also take away several essential health care benefits provided under Obamacare — including protections that bar insurance agencies from denying coverage to people with pre-existing conditions, according to NPR. Multiple versions of Republican replacement bills would have allowed states to wave requirements for coverage of people with pre-existing conditions, as long as they "stipulate[d] how they would maintain coverage for this group," per PBS. The Republican efforts to repeal Obamacare did not succeed.
However, even though repeal efforts have failed, the Trump administration has worked to undermine the health care law's efficiency, including by cutting subsidies which support the cost of health insurance, which would likely cause insurance costs for consumers to skyrocket and destabilize the health care system overall.
Given that there is an active, White House-backed lawsuit that would strip protections for people with pre-existing conditions, Trump's tweet is looking highly problematic. Will Republicans defend Obamacare? You look at the evidence and tell me.