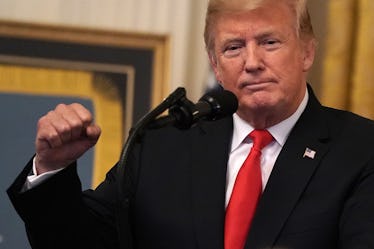 Twitter Can't Handle Trump's Ridiculous Tweet About Obama Amid Hurricane Florence
Alex Wong/Getty Images News/Getty Images
No rest for President Donald Trump's Twitter fingers on Sept. 14. On Friday evening, he took to the social media platform to blast "fake news" outlets once again for their coverage (or lack thereof) of a mistake President Barack Obama made more than 10 years ago, and literally no one is surprised. However, the timing of Donald Trump's tweet about Barack Obama's 2008 "57 states" blunder is causing some concerns, and people are airing their frustrations about it all online.
In his tweet, Trump claimed the "fake news media" refused to cover comments Obama made while on the campaign trail in 2008, in which he mistakenly declared that he had been to "57 states." Trump added that if he had made such a mistake, then it would have been "story of the year." The tweet read:
When President Obama said that he has been to '57 States,' very little mention in Fake News Media. Can you imagine if I said that...story of the year! @IngrahamAngle
There's obviously a lot to pick apart here. For starters, Obama was, indeed, rebuked by the media for the comment, as evidenced by a 2008 report from The Los Angeles Times. The mistake also fueled conspiracies — deemed the "birther movement" — that Obama was not born in America or was Muslim, per The Hill. Even though President Trump finally admitted in September 2016 that Obama was in fact born in the United States, Trump was previously a proponent of the birther movement, often tweeting his belief that Obama was born outside of the United States. Elite Daily reached out to the White House to confirm President Trump was referring to Obama's 2008 comment in his tweet and for comment on whether President Trump was also referencing the birther claims from that time in his tweet but did not hear back by the time of publication.
But people seemed to be particularly bothered at Trump's post because it comes in the wake of Hurricane Florence, a Category 1 hurricane that hit the Carolinas that same day and resulted in catastrophic damage just moments after it made landfall. Needless to say, the tweets are seriously angry.
"Anything else on your mind tonight, bro?"
"With this 'president' you wouldn't even know there was a major disaster occurring on our East Coast with loss of life," one user wrote.
Although Hurricane Florence was downgraded to a tropical storm on the evening of Sept. 14, it's still causing devastation along the East Coast. According to The Washington Post, there's catastrophic flooding and strong winds still plaguing North Carolina. Also, at least five people have died as a result of the monstrous storm, and 1 million people without power. Clearly, it's a serious event that deserves attention.
Luckily, on Saturday, Sept. 15, the White House announced that Trump ordered federal aid to support recovery efforts in areas affected the storm. According to The Hill, Trump issued the order — which includes grants for home repairs, loans for property loss, and more — on Friday, so perhaps some of those tweets got through to him.
Still, he might want to chill on the fiery rants until this storm blows over.