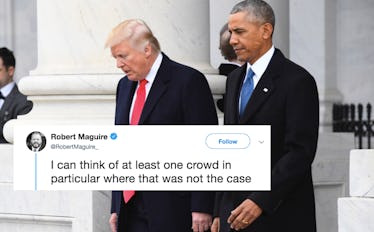 Twitter Is Not Here For Donald Trump Comparing Crowd Sizes With Barack Obama Again
Pool/Getty Images News/Getty Images
Another day, another chance to figure out what exactly President Donald Trump is tweeting about. On Saturday, Nov. 3, President Trump took to his favorite social media site to talk about a rally in Montana, and he somehow found a way to bring President Barack Obama into the mix (shocking, I know). It seems like people are over Trump always talking about Obama, because Donald Trump's tweet about Barack Obama and crowd size has Twitter clapping back at the claims.
You'll recall that back when Trump assumed the office of the presidency on January 20, 2017, there was much talk about the size of his inauguration crowd — with former White House Press Secretary Sean Spicer saying at the time that it was the "largest audience to ever witness an inauguration, period, both in person and around the globe," per TIME. In January 2018, Spicer said in an interview on HLN that he "screwed up" while talking about the inauguration crowd size. As for the actual crowd sizes, the National Park Service that oversees the National Mall didn't offer any estimates at the time, per CNN. Although, many side-by-side pictures of both crowds appeared to show that Obama's 2009 inauguration crowd was larger than Trump's in 2017.
While you may have thought the comparison of crowd sizes was in the past, Trump brought the topic up again on Saturday, Nov. 3, but he wasn't referring to his inauguration. Trump shared a tweet of a video with a line of people waiting for a rally for Republican candidates in Montana on Saturday, and he wrote above it,
Landing in Montana now - at least everybody admits that my lines and crowds are far bigger than Barack Obama's...
The video of the line for the rally from NBC News reporter Frank Thorpe V was captioned, "Three hours to go until Pres Trump's rally in Bozeman, MT, and there's a super long line." No mention of Obama.
So, it was a little befuddling when Trump compared his "lines and crowds" to Barack Obama's. Elite Daily reached out to the White House for further comment on Trump's tweet, but did not hear back at the time of publication.
Perhaps he was referring to Obama's stop in Florida on Friday, Nov. 2 to campaign for Tallahassee Mayor Andrew Gillum, who is running for governor in Florida, and Sen. Bill Nelson (D-FL), who is seeking reelection for a fourth term. Obama also stopped at Morehouse College in Atlanta, Georgia on Friday to campaign for Stacey Abrams, who is running for governor in Georgia, per Politico.
Either way, people on Twitter couldn't believe that POTUS was talking about about compared crowd sizes, again...
And people really weren't here for Trump claiming that "everybody admits" this (even though it's still not clear what exact comparison he was making in his tweet).
Others pointed out that it appeared Obama's 2009 inauguration did surpass the attendance at Trump's 2017 inauguration, per The New York Times. The publication reported in January 2017 that, "Analysis of news footage appears to indicate that fewer people attended President Trump's inauguration than President Obama's in 2009."
Really, some people just saw it as childish.
Beyond the fact that it wasn't totally clear why Trump would be tweeting about crowd sizes out of nowhere, people are still left to wonder exactly which crowds President Trump is talking about. According to The Miami Herald, Gillum's campaign reported 4,000 attendees watched Obama stump for the two candidates at Miami's Ice Palace Film Studios, where Obama sent a message to apparent protesters in the crowd when he said, "If you support the other candidates, then you should support the other candidates." The Gillum campaign did not immediately reply to Elite Daily's inquiry to confirm the rally's crowd size.
"Go to their rallies," he continued. Seeing as though Obama literally encouraged people who didn't support Gillum and Nelson to leave the venue, it looks like Obama might be more concerned with getting out his message to vote in the midterm elections rather than getting a head count at the rallies where he speaks. As for Trump's appearance at Saturday's rally for Republican Senate candidate Matt Rosendale in Belgrade, Montana, the White House did not immediately reply to Elite Daily's request for comment on how many people were in attendance.
Honestly, I think plenty of people could care less about these numbers, but it seems to take priority in President Trump's thinking. With the 2018 midterm elections just days away, though, many people are far more concerned with how many people will turn up to the polls on Nov. 6. As for what numbers Trump will be concerned with on Tuesday, I guess you'll have to wait and see.