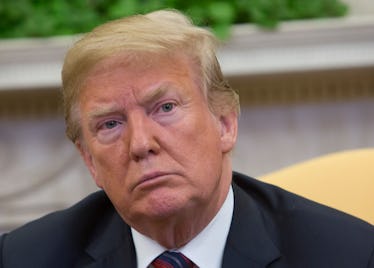 Donald Trump's Net Worth Has Dropped A Lot Since He Became President
Pool/Getty Images News/Getty Images
President Donald Trump is not as rich as he once was. At least, that's the case according to a new report from the Bloomberg Billionaire Index. The media company reported on Thursday, May 31, that Donald Trump's net worth has dropped by more than $100 million since he became president.
Bloomberg compiled the information from lenders, property records, annual reports, market data, and a May 16 financial disclosure from Trump. Net worth is defined as the value of all your assets minus all your liabilities, and it's the leading measurement of a person's financial health. The precipitous drop in Trump's net worth coincided with the rocky start to his second year in office, and after his name was stripped from his properties in Toronto, Manhattan, and Panama. That puts Trump's current net worth at about $2.8 billion (measly, I know). The biggest declines, Bloomberg reported, totaled about $220 million and came from two adjacent buildings in midtown Manhattan.
The Bloomberg analysis says that the biggest cause of the revenue drop is because of falling revenue at Trump golf courses and resorts — Trump Tower included. Mar-a-Lago's revenue is also reportedly down, where Trump has held a number of high-profile meetings since becoming president.
Forbes reporter Natasha Bach noted that Bloomberg's estimates could be low if Trump has assets or received payments that have not been publicly disclosed. (The pendulum swings the other way, too, if Trump has not disclosed debts he owes. In that case, Bloomberg's estimate could be higher than his actual revenue.)
Trump Organization spokeswoman Amanda Miller told Bloomberg that the numbers don't tell the whole story. "The location of a property affects the rents it can achieve," she said.
Trump's International Hotel in Washington, D.C. — also the subject of an emoluments lawsuit — offset many of his losses. It reportedly hit $40 million in its first year of operation this year. (On Wednesday, March 28, a Maryland judge ruled that the emoluments case against Trump involving the D.C. hotel's revenue would continue in court after initially being challenged by the Justice Department. The lawsuit alleges that Trump has unlawfully used the power of the office to garner profits from the D.C. building, which Trump and his lawyers contest.)
If Trump's drop in greenbacks doesn't surprise you, this might: At $2.8 billion, he doesn't even crack Bloomberg's list of the top 500 richest people in the world. The lowest net worth on that list is $4 billion, and that group's wealth reportedly grew by 9.4 percent last year.
Trump's drop in net worth is significant, if only that the second straight year of his losses is also the second year of his presidency — y'know, practically the biggest platform on the face of the Earth. Critics of Trump's were annoyed by his break with tradition in not divesting assets that might pose conflicts for his presidency (hence, current legal woes). Rather than sell parts of his company and place the proceeds in a blind trust, Trump put his sons, Eric and Donald Jr., in charge of the Trump Organization. His daughter, Ivanka, reportedly divested her assets but still maintains some control over her brand; she is technically a senior adviser to the president, per The New York Times.
Despite his own insistence that he's a genius businessman, Trump has had his fair share of financial woes in his years as a real estate mogul.
By the early 1990s, the Trump Organization was reportedly "hemorrhaging money" and Trump was on the hook for hundreds of millions of dollars, per Vanity Fair and The New York Times, citing a partially-redacted copy of his old tax returns. Between 1991 and 2009, The Washington Post reported, Trump's companies have declared bankruptcy on six separate occasions.
Bloomberg began tracking Trump's wealth in 2015, so who knows what other data they might've collected had they started earlier. Still, it's got to be a frustrating blow to Trump — who so often prides himself on his wealth.