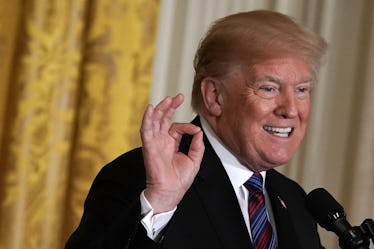 Trump's Team Reportedly Misspells His Tweets On Purpose, So That's Where We're At
Alex Wong/Getty Images News/Getty Images
Here's one thing to understand about the way the president of the United States communicates with people online: It's not always him doing the communicating. It's long been a bit of an open secret that White House staff members, like director of social media Dan Scavino, have access to Donald Trump's Twitter account. And when they do access it, they might not be that worried about grammatical errors either, which means Donald Trump's misspelled tweets and mistakes on social media might not be "mistakes" at all.
That, at least, is the conclusion of a story published by The Boston Globe on Tuesday, May 22. Annie Linskey at The Globe reported that staff members who impersonate Trump via Twitter "relish" when Trump gets criticized for the unorthodox style of his tweets, and that those staff members also believe that debates about the president's grammar reinforce the idea of among his base that Trump has the "common touch." Elite Daily reached out to the White House for comment on this report, but did not hear back at time of publication.
Linskey's report also says that staff members "consciously use poor grammar," but don't purposely misspell words. In other words, some of Trump's staff go out of their way to sound like him, which requires speaking improperly, and those same staffers believe it makes the president more relatable, according to The Boston Globe's reporting.
It's no shock to find that politicians have staff members who write their tweets. Lest we forget, Texas Sen. Ted Cruz said that when his account "liked" a porn video on Twitter, it was the result of a "screw up" by a staffer.
Trump's case is still unique, though. The president has a — safe to say — distinct style of speaking, which apparently means any staff members trying to craft tweets for his account have to do so with syntax that is unnatural.
You probably wouldn't expect that to be the case for, say, Nebraska Senator Ben Sasse, or Senate Minority Leader Chuck Schumer.
"Tweets that are proposed are in [the president's] voice," an unnamed staff member said, according to The Globe. "You want to do it in a way that fits his style."
The Boston Globe is far from the first outlet to report on the White House staff's unique way of operating Trump's Twitter account. In July 2016, when Trump was still a presidential candidate, The Washington Post reported on the types of content Trump gets from his staff members.
"He asks us our thoughts and listens to everybody, anybody. It doesn't matter if you're the campaign manager or a lower-level staffer," Scavino told The Post. "He wants to know what people think of his speeches, and he listens. So he reads everything we give him, and we keep bringing him and feeding him. And he sees a lot, sometimes he brings stuff to us we haven't seen."
In June 2017, Politico published a story about Scavino's use of the account, calling him "the other @RealDonaldTrump" and the president's "mini-me." Scavino, who reportedly met Trump decades ago when he was a golf caddy for him, often types tweets for Trump's account as Trump himself dictates the words, Politico reports.
Now, in May 2018, The Boston Globe has published a progress report on the White House staff's efforts to sound more and more like Trump, noting that it's getting harder to tell which tweets are written by the president — who very personally clearly uses his Twitter account more than most politicians — and which tweets are written by a staffer.
The staff members' impersonation of the president goes as far as replicating his use of exclamation points, parentheses, and fragmented speech, The Globe reports.
Most notable, though, is that those staff members seem to have gotten better at tweeting for Trump by going out of their way to use improper grammar. So that's where we're at.