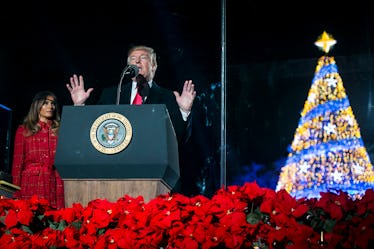 Trump Made A Statement For Kwanzaa & Twitter Is Not Here For It
Pool/Getty Images News/Getty Images
For his first holiday season in office, the president has clearly been making an attempt to cover all his bases. But President Donald Trump's Kwanzaa statement wasn't exactly well received on Twitter. Lots of users are calling out the well-wishes for a variety of reasons.
"Together, let us celebrate during this joyous time the richness of the past and look with hope toward a brighter future," the White House's Dec. 26 statement reads. "As families and friends join to light the Kinara, Melania and I extend our warmest wishes for a joyful holiday season and a prosperous year to come."
For many years, the sitting president has made a statement to recognize the holiday, as with other winter holidays — Christmas and Hanukkah. Kwanzaa began in 1966 as a holiday celebrating African-American heritage that culminates with a feast and exchange of presents, and involves lighting a candleholder called a Kinara. The celebration always runs from Dec. 26 to Jan. 1. But Trump's first go at an homage to the holiday was not exactly well received on social media.
Trump has been on the Christmas train for a while now.
As if the Christian holiday was in danger of being forgotten altogether, Trump has made an increased effort this year to really drive home Christmas, injecting politics and partisanship — even down to the term "Merry Christmas" — into the end-of-year festivities.
"People are proud to be saying Merry Christmas again," Trump tweeted on Dec. 24. "I am proud to have led the charge against the assault of our cherished and beautiful phrase. MERRY CHRISTMAS!!!!!" Though he's labeled himself as the torch-bearer in the fight to save Christmas, Trump has actually done quite the opposite in years past, as The Washington Post reports, including using the traditional tree as a bargaining chip in tenant conflicts.
Between bouts of patting himself on the back for swooping in to rescue the holiday from its demise, Trump didn't give Kwanzaa nearly the same kind of love on social media. The president, ironically, hasn't tweeted about Kwanzaa this year — or ever, minus that one time where he complained about Obama recognizing it, but we'll get to that in a minute — but has mentioned Hanukkah in two tweets and Christmas in 12 of them, according to the database TrumpTwitterArchive.com.
A Happy Kwanzaa tweet was, however, sent from the White House's official Twitter account on Dec. 26.
For comparison: As of publication, Obama has tweeted about Christmas and Hanukkah this year, but has not yet tweeted about Kwanzaa.
People are calling out Trump's tweet from 2011 about Obama's Kwanzaa statement.
As The Hill points out, former presidents Barack Obama, George W. Bush, and Bill Clinton all made Kwanzaa statements as well. But in 2011, Trump falsely criticized Obama for his holiday remarks, saying, "What a convenient mistake: @BarackObama issued a statement for Kwanza [sic] but failed to issue one for Christmas." In reality, Obama had wished the American people a Merry Christmas multiple times that year.
And on this holiday in particular, people were scrutinizing Trump's 2011 tweet, which shared a link about Obama's statement and called it a "fake holiday."
People seemed to sense a disconnect between Trump's Christmas push and his sudden Kwanzaa statement. "Donald Trump in 2017, after long claiming he's allowing everyone to finally say "Merry Christmas" again: Happy Kwanzaa!" tweeted The Boston Globe's Matt Viser.
As Newsweek points out, unlike Trump's, Obama's statements in years past went beyond a basic well-wishing, going more in-depth about Kwanzaa and mentioning how its values reflect those of Americans as a whole. In both 2016 and 2015, the president's messages listed Kwanzaa's seven principles: "unity, self-determination, collective work and responsibility, cooperative economics, purpose, creativity and faith."
Some users expressed doubt as to whether the statement really came from Trump himself.
"I will bet every dollar I have and all my worldly possessions that Trump doesn't know how to spell Kwanzaa, let alone explain what it is, let alone know it exists, let alone that this press release was written," tweeted writer Charlotte Clymer.
"That statement truly captures his voice," replied one user with apparent sarcasm.
"Someone else so wrote that," wrote another.
Another user, Shauna, wrote, "This isn't even close to his voice. It's basically a bad lip sync. The Milli Vanilli of press releases, if you will."
So, while Trump's official feelings on the holiday season may be something of a mixed bag, plenty of people made it clear what they think of the statement on social media.