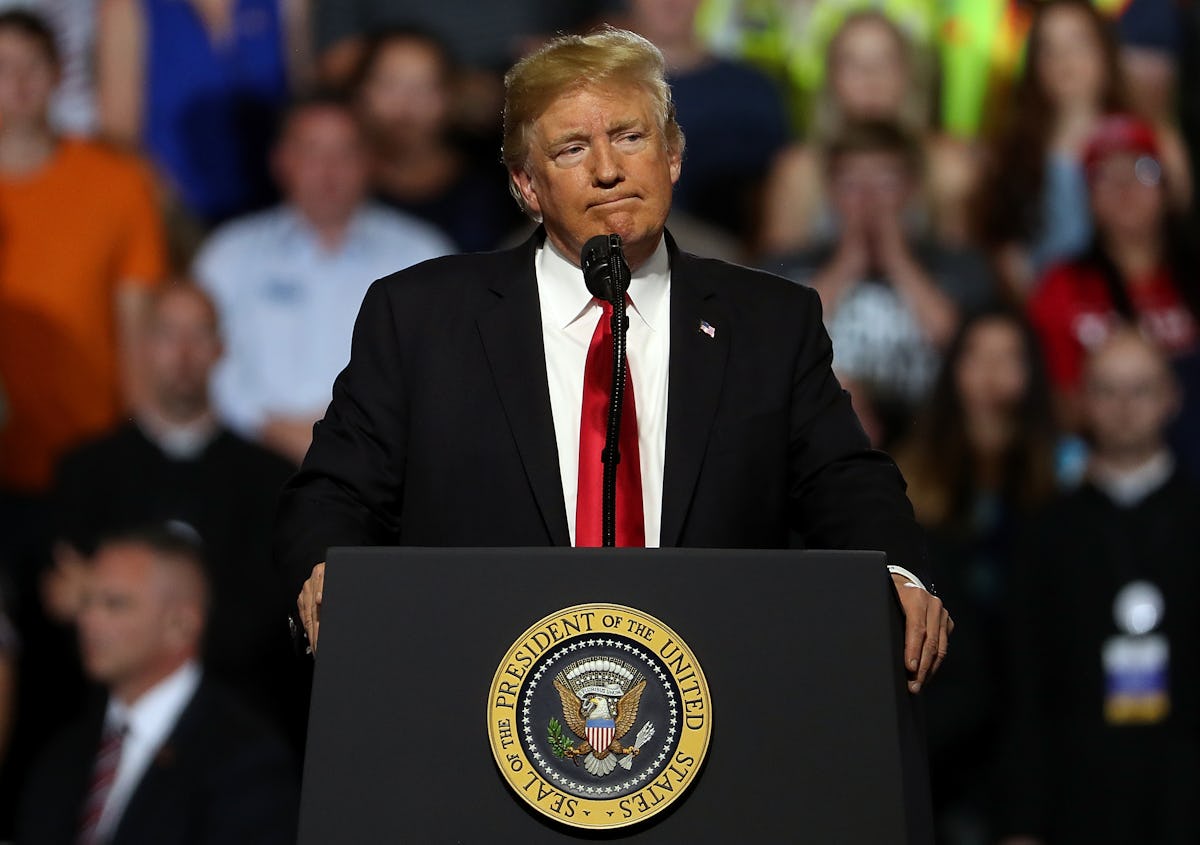 Donald Trump's Former Driver Is Suing Him, & Add This Legal Drama To The List
Justin Sullivan/Getty Images News/Getty Images
These past few years have felt so long that you almost forget that Donald Trump used to be just another gaudy businessman. Trump touts himself for having a lot of money, being a good businessman, and being a champion for the working class, but sometimes his actions tell a very different story. For example, Donald Trump's longtime driver is suing him for hours of alleged unpaid overtime, and you can just add it to Trump's list of legal troubles.
Noel Cintron, Trump's personal driver for more than 25 years, filed a lawsuit against the Trump Organization on July 9 claiming that he's owed 3,300 hours of overtime that he's put in over the last six years, according to Time. In the July 9 complaint, Cintron claimed that before Trump became president, he was required to be at work for Trump at 7 a.m. each morning, and work until Trump, members of the family, or business associates no longer needed him and let him off. In the end, Cintron claims he worked as many as 55 hours a week, but his salary was fixed at $62,700 in 2003, $68,000 in 2006, and $75,000 in 2010, according to Time. To boot, Cintron claimed that he worked 550 hours of overtime every year for the past six years and was not paid time-and-a-half, according to The Hill. The actual overtime he claims he's owed reportedly extends past those six years, but Cintron is barred from suing for that because of the statute of limitations.
Amanda Miller, the Trump Organization spokeswoman, told Time in a statement on July 9 that the company has been in accordance with the law and that will be seen in court. She said,
Mr. Cintron was at all times paid generously and in accordance with the law. Once the facts come out we expect to be fully vindicated in court.
Cintron stated in his complaint that he felt exploited by Trump and the Trump Organization, according to Time. He alleges in his complaint,
In an utterly callous display of unwarranted privilege and entitlement and without even a minimal sense of noblesse oblige President Donald Trump has, through the defendant entities, exploited and denied significant wages to his own longstanding personal driver.
Cintron isn't just claiming that he's owed overtime. The lawsuit also included allegations that in the past 15 years, Trump has only raised his salary twice and the 2010 increase came with a price. Cintron claimed that with that bump in his salary, he was forced to give up his health insurance which reportedly saved Trump about $17,866 a year in premiums, according to the suit filings.
Larry Hutcher, Cintron's attorney, also made the point that Trump is constantly saying he's the "champion of working men and women," which makes these allegations pretty ironic. Hutcher said, per The Hill,
Donald Trump has proclaimed himself as a champion of working men and women, but nothing could be further from the truth. Noel Cintron worked for him days, nights and weekends, but year after year Trump refused to pay him the wages he had earned. A complete disregard for the rights of workers has defined his disgraceful record in business.
Trump doesn't have the best track record when it comes to money exchanges in his business dealings. According to NBC Miami, last year one of Trump's Florida golf resorts was ordered by an appeals court to pay over $32,000 for paint used at the property that a Miami company claimed they weren't paid for.
That's not the only case either. According to a 2016 report by USA Today, hundreds of people who have worked for or provided services for Trump and his organizations have alleged they haven't been paid at all or in full, amounting to nearly 3,500 lawsuits over the past thirty years. Trump, along with daughter Ivanka, told USA Today at the time that if a company or worker hadn't been paid it was because they had provided substandard work. But that 2016 report also found at least 24 citations for violations of the Fair Labor Standards Act on the part of the Trump Organization since 2005 for allegedly failing to pay overtime or minimum wage. (In all cases, the citation was resolved by the Trump-branded company agreeing to pay back wages.)
Then again, Trump is probably used to legal drama by now. At the moment, Trump is being very publicly sued for defamation by Stormy Daniels (legal name Stephanie Clifford), who alleges she had an affair with the now-president back in 2005. (Trump has repeatedly denied allegations of an affair.) Oh, but he's also being sued, again for defamation, by Summer Zervos, who alleges he sexually harassed her on the set of his reality show The Apprentice. (Trump has said her claims are lies.) Oh oh, and of course, there's the Russia investigation, where the president and his associates are being investigated for obstruction of justice regarding Russian meddling in the 2016 presidential election, which was intended to favor Trump. Trump has repeatedly denied collusion.
I guess I'll just add this pending trial to the list, then. What's one more lawsuit, after all.