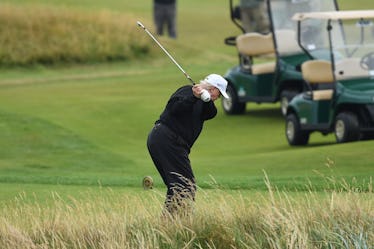 Donald Trump Reportedly Spends Hours A Day Watching TV & Making Phone Calls
Leon Neal/Getty Images News/Getty Images
In the home stretch leading up to the 2018 midterm election, the president has been criss-crossing the country to stump at rallies for Republican candidates. But as for how else he's been spending his time, that part is a bit more iffy. Just over a week before Election Day, Politico reported on Monday, Oct. 29 that President Donald Trump's daily schedule includes hours of downtime. Elite Daily reached out to the White House for comment on the reports of the president's schedule but did not receive a response at time of publication.
The publication reportedly examined a week's worth of the president's schedule from Monday, Oct. 22 through Friday, Oct. 26. In that timespan, the president had apparently clocked multiple blocks of unscheduled "executive time" during which he was free to do as he pleased — reportedly including, as previous reports have indicated, watching TV, tweeting, and talking to friends.
While Tuesday, Oct. 23 was said to include nine hours of this free time, the report further elaborated,
Official meetings, policy briefings and public appearances — typically the daily work of being president — consumed barely more than three hours of his day.
The Politico article is the latest in a string of critical examinations of the president's time management and work ethic, and appears consistent with CNN's reporting from January, also describing generous blocks of unstructured "executive time" in Trump's schedule.
It's unclear exactly what these hours entail; per aides, the president spends this time phoning political leaders and setting up meetings. The aides described him as "a workaholic," according to Politico. And to be sure, past presidents are said to have had anything but "normal" working hours; President Barack Obama, for example, was known to be a night owl, while President George W. Bush was said to start and end his day early. So it's not uncommon that the current commander-in-chief has particular requests for how his time is managed.
But it's hardly gone beyond notice that the president also watches a fair amount of TV, namely Fox News — reportedly up to eight hours a day — and is frequently posting on Twitter. And the president has also been routinely called out for his frequent trips to Mar-A-Lago, his Palm Beach resort, and golf days. (According to Trump Golf Count, the president has currently racked up 149 golf outings since taking office.)
Any skepticism as to Trump's workplace hygiene may be egged on the fact that the Politico report comes just days after an Oct. 25 report exposing the president's phoning habits. Per the New York Times, the president has continued to make personal phone calls to advisers, friends, and confidants, all while using an unsecured iPhone that aides had repeatedly warned him might be vulnerable to eavesdropping by foreign agents. Elite Daily reached out to the White House for comment on the report but did not receive a response. Ironically, responding to the Times' reporting last week, Trump tweeted that the article was "so incorrect I do not have time to correct it." (Of course, just 11 minutes later, he tweeted again.)
During an Asia trip last year, the president had told reporters that he doesn't have much time for watching TV ("primarily because of documents"). This was shortly after a new 60-inch flat screen had reportedly been installed in his dining room.
As Politico's Carla Marinucci points out, the president isn't slated for much on Monday, Oct. 29 — so maybe he'll have time to read the article?