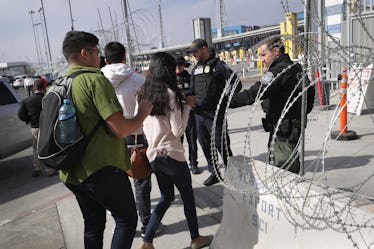 A Judge Shut Down Trump's Attempt To Block Asylum Seekers — For Now
John Moore/Getty Images News/Getty Images
Refugees fleeing violence abroad and seeking asylum in the United States were given temporary protection this week thanks to a federal court ruling. On Monday, Nov. 19, President Donald Trump's asylum rule was blocked in court, to the praise of immigration advocates. The decision, while not final, means that refugees entering the U.S. can continue to seek asylum regardless of whether they enter the country through an official port of entry.
Upholding the legal precedent, Judge Jon Tigar in San Francisco on Monday placed a temporary block on the president's new rule, holding that asylum seekers must continue to be allowed to make their claims regardless of where or how they enter the U.S. until further court rulings are made.
In a Nov. 9 proclamation, Trump had sought to restrict the conditions for foreign nationals to seek asylum, designating that only those who entered the country via a port of entry could make a claim. Before Trump's rule earlier this month, refugees, per law, could apply for asylum even if they'd entered the country illegally. While they were still subject to prosecution for committing a crime, that wouldn't preclude them from seeking asylum.
The case was brought by the Southern Poverty Law Center (SPLC), the American Civil Liberties Union (ACLU), and others. The Trump administration appears likely to proceed with its case in court despite Tuesday's setback, though its path to victory is uncertain given the existing laws around asylum in the country.
"This ban is illegal and would put people's lives in danger. Blocking it is a critical step in fighting the administration's attacks on asylum seekers," wrote the ACLU on Twitter.
Trump's proclamation appears to specifically target the caravan of migrants making its way through Central America to flee violence and unlivable conditions in their home countries. The rule, attempting to limit asylum cases only to those who presented themselves via an official port of entry, would mean that the potential thousands of families seeking refuge in the U.S. could be prosecuted for illegal border crossing without being allowed to apply for asylum, and/or risk being turned away. Trump's proclamation read:
Under this suspension, aliens entering through the southern border, even those without proper documentation, may, consistent with this proclamation, avail themselves of our asylum system, provided that they properly present themselves for inspection at a port of entry. ... But aliens who enter the United States unlawfully through the southern border in contravention of this proclamation will be ineligible to be granted asylum under the regulation.
Monday marked yet another time in Trump's presidency that a federal judge had struck down an immigration-related rule from the administration, after rulings on the move to end the Deferred Action for Childhood Arrivals (DACA) program and the previous unsuccessful iterations of the travel ban.
As with previous immigration restrictions sought by the Trump administration, the eventual fate of this restriction is still undetermined, as it will likely continue to be met with legal challenges and appeals on both sides. In a joint statement to Elite Daily, Department of Homeland Security Spokesperson Katie Waldman and Justice Department Spokesperson Steven Stafford said they "look forward" to fighting the case moving forward, and defended the president's proclamation, saying:
[A]sylum is a discretionary benefit given by the executive branch only when legal conditions are met and a favorable exercise of discretion is warranted. It is lawful and appropriate that this discretionary benefit not be given to those who violate a lawful and tailored presidential proclamation aimed at controlling immigration in the national interest.
But on its face, the proclamation appears to conflict with international asylum law as well as longstanding U.S. immigration law that provides refugees the right to make a claim of asylum and be given an interview with an official to determine if their claim has merit.
Moreover, the manner of arrival — whether at a port of entry or not — doesn't negate a refugee's right to claim asylum. Refugees fleeing their country, as Judge Dana Leigh Marks said in June, are often desperate to reach safety and may not have the knowledge or means to make their arrival via a port of entry. "There is an international understanding that people fleeing for their lives can't follow all of the normal processes that may take months or years to work out — they have to get to safety immediately," Marks said.
Earlier this summer, reports claimed that wait times to meet with U.S. immigration officers had ballooned to almost two weeks, and some officers had even reportedly been turning legitimate asylum seekers away at the border. Elite Daily reached out to DHS for comment on the reports at the time, but did not hear back.
Citing the Supreme Court's ruling to uphold the travel ban in June, Waldman and Stafford added,
As the Supreme Court affirmed this summer, Congress has given the president broad authority to limit or even stop the entry of aliens into this country ... It is absurd that a set of advocacy groups can be found to have standing to sue to stop the entire federal government from acting so that illegal aliens can receive a government benefit to which they are not entitled.
But in his order, Judge Tigar seemed to clearly disagree, writing, "Whatever the scope of the president's authority, he may not rewrite the immigration laws to impose a condition that Congress has expressly forbidden." It's clear that administration doesn't see it this way, however. The ban on Trump's rule will remain in effect, per NPR, through Dec. 19.