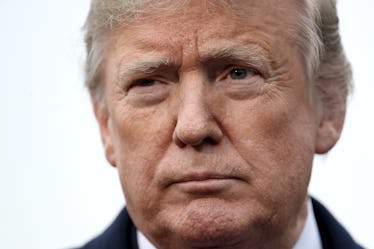 Donald Trump Retweeted A Fake Mike Pence Account, Because What's Fact-Checking?
Win McNamee/Getty Images News/Getty Images
Ever think to yourself that 2018 can't possibly get any weirder? Well, I'm sorry to break it to you, but it has. It's no secret that President Donald Trump spends a good chunk of his day tweeting. But while his musings are mostly his own original content on current events or the "fake news media," on Wednesday, Nov. 28, Donald Trump retweeted a fake Mike Pence account, which begs the questions, what's fact-checking even these days? Is it still around?
Wednesday morning, the president shared a tweet that read, "I'm thankful for every day Hillary Clinton is not President!" The original tweet was shared by a Mike Pence parody account with the handle @MikePenceVP. The profile used the same image as the actual vice president's account, and originally used the name "The Vice President" on the account. However, the real vice president in fact uses the handle @VP (he also has another that's @Mike_Pence). The @MikePenceVP account, which changed its name to "VP FAN" following the president's retweet, now says in the bio that it's a "fan account" whose goal is to "expose liberal hypocrisy and fake news bias."
Now, it's unclear whether Trump retweeted the message knowing that it was fake. Maybe he was totally aware it wasn't actually his vice president, but wanted to share the sentiment. Elite Daily reached out for comment on the president's retweet, but did not immediately hear back.
It's very possible that Trump didn't give the tweet a second glance, because he was super occupied Wednesday morning retweeting a whole other slew of content aimed at his political rivals. One tweet in particular was a clip from an Oct. 29 interview Clinton did with ReCode's Kara Swisher. When Swisher momentarily confused Sen. Cory Booker, D-N.J and Attorney General Eric Holder, both of whom are Black men, Clinton sarcastically quipped, "Yeah, I know they all look alike." Clinton then joked that she was "paid" by Facebook CEO Mark Zuckerberg to say that — an apparent dig about the fact that Facebook doesn't have the best reputation when it comes to banning hate speech from its platform.
On the point of hateful speech, it's kind of ironic that Trump would retweet several tweets of this October clip, as he's been called out for what some see as racist remarks or actions. In 2015, soon after he announced his 2016 presidential campaign, Trump referred to Mexican immigrants as "rapists" and criminals, according to The New York Times. Elite Daily previously reached out to the White House regarding Trump's remarks, but did not hear back. Moreover, one of the first things Trump did after entering the White House was to institute a travel ban targeting Muslim-majority countries, banning many immigrants from countries like Syria, Iran, and Libya. To boot, more than a few times the president has retweeted messages from white supremacist accounts, according to Esquire. In January 2016, the president even retweeted a user whose handle was @WhiteGenocideTM, according to CNN. The publication also reports that at the time, the user's bio led to a page with a pro-Adolf Hitler documentary. While retweeting messages, users can often mindlessly click the retweet button without giving the handle a glance. However, Trump copy and pasted the message from @WhiteGenocideTM with the handle included. Elite Daily reached out for comment regarding the tweet, but did not immediately hear back.
Maybe since Trump decided to forgo the copy and paste, he didn't realize the the "fan" part of the fake Pence account.