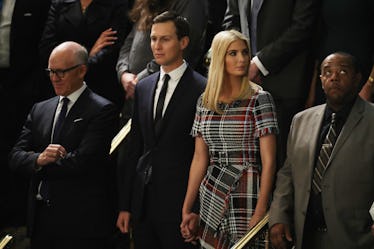 Donald Trump Reportedly Wants Ivanka & Jared Out Of White House
Chip Somodevilla/Getty Images News/Getty Images
There's little question that the president is a fan of his eldest daughter, Ivanka Trump, and her husband, Jared Kushner. For months, husband and wife have dutifully been serving the 45th president as advisers. But according to a report from The New York Times published on Thursday, March 1, Donald Trump wants Ivanka and Jared Kushner out of the White House.
Specifically, Trump has reportedly grown frustrated with his daughter and son-in-law's bad press, The Times reports, citing White House aides. While he's reportedly told the couple he wants them to stay in their current roles, in private, aides claim he has complained that they should never have been in these roles in the first place and should leave. In addition, Trump reportedly told his Chief of Staff John Kelly that he wanted to enlist Kelly's help to oust them. (Elite Daily reached out to the White House for comment from Ivanka and Donald Trump and Jared Kushner but did not receive a response at time of publication.)
It's unclear how such a request to Kelly was made, or how Kelly would go about facilitating their departure. As of publication, there are no known announcements regarding the couple's plans. But the news that Trump allegedly wants his daughter and son-in-law out comes at a time when the White House is already embroiled in upheaval and PR nightmares.
In particular, Trump was reportedly annoyed by recent reports from this week regarding Kushner and his legal vulnerabilities, according to The Times. Kushner's web of business ties make him in many ways a liability for the president to have on staff, and on Tuesday, Feb. 27, Politico reported that Kushner's top-secret security clearance had been downgraded to secret, calling into question his ability to carry out his charge as senior adviser. The same day, The Washington Post reported that at least four countries had sought to take advantage of Kushner's position as a foreign envoy and manipulate him.
This Times report was joined by one in The Washington Post, also from March 2, that, per White House officials, Trump had recently expressed that the couple would be better off ditching their West Wing jobs and moving back to the Big Apple.
It's been a tumultuous week for the White House. Tuesday, Feb. 27, was a particularly rough day for the administration's media coverage; beyond the Kushner new, the news cycle was loaded with reports of rapid turnover in the White House. News that Josh Raffel, Ivanka and Jared's spokesperson, was leaving his role came out on Feb. 27. Per The Times, policy adviser Reed Cordish is also leaving the White House, joining Dina Powell, a former deputy national security adviser, who recently departed. On Wednesday, Feb. 28, White House Communications Director Hope Hicks announced she'd be leaving her post, just one day after she'd testified to Congress for 8 hours regarding the investigation into Russian meddling in the 2016 presidential election. Hicks was the fourth person to leave that position since Trump took office, according to Quartz.
Trump has reportedly grown angry in recent days over an ongoing battle with Attorney General Jeff Sessions, The Times reports. He's also feeling the heat after Robert Mueller's investigation into Russian meddling has already resulted in the indictments of 22 individuals and companies to date, adding fuel to a growing PR fire.
Since taking office, Ivanka has also routinely come under fire. Most recently, her and Jared's business deals have become the subject of intense scrutiny for the FBI, CNN reports.
This week, The Wall Street Journal editorial board also called for the power couple to consider handing over their White House reins in light of the liabilities involved with their roles.
Sources referenced in The Times note that Jared and Ivanka, for their part, are also frustrated by what they feel is Kelly's hostility towards them. Fair enough.