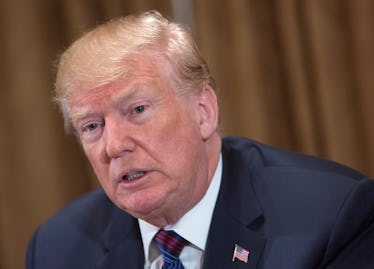 New Report Claims Donald Trump Had A Secret Child With His Housekeeper
Pool/Getty Images News/Getty Images
The stories around President Donald Trump's alleged affairs gets wilder and wilder. An ex-doorman is now claiming that Donald Trump had a secret child with his housekeeper, according to an April 12 report from The Hill. Elite Daily reached out to the White House for comment on the report, but did not immediately receive a reply.
Dino Sajudin, former doorman at one of Trump's buildings, has made an unsubstantiated claim that suggests Trump had an affair with one of the housekeepers that worked for him, and that affair resulted in a child. Sajudin said in an April 12 statement obtained by CNN,
Today I awoke to learn that a confidential agreement that I had with AMI (The National Enquirer) with regard to a story about President Trump was leaked to the press. I can confirm that while working at Trump World Tower I was instructed not to criticize President Trump's former housekeeper due to a prior relationship she had with President Trump which produced a child.
Sujadin made his statement in response to an Associated Press investigation into a supposed deal the ex-doorman had with a large media company. According to the AP, before the culmination of the 2016 presidential election, Sajudin had made a deal with the owners of The National Enquirer, American Media Inc. (AMI). They reported that Sajudin was given $30,000 in exchange for the rights "in perpetuity" for a rumor he had heard about Trump — that the now-president reportedly had an affair with a Trump World Tower employee that reportedly resulted in a child. If Sajudin had reported this rumor or the details of his AMI deal to anyone, he would be subject to a $1 million penalty as stipulated in his contract with AMI, according to the AP.
On Wednesday April 11, RadarOnline — a sister publication of the Enquirer — published a story saying they had reviewed documents that reportedly show that Sajudin had made a deal with AMI. They reported that the Enquirer spent weeks investigating Sujadin's claim but ultimately decided that it did not hold water.
The Enquirer's top editor and AMI executive, Dyland Howard, said that he decided not to run the story because it "lacked any credibility," according to The Hill.
There were people who knew Sujadin who cast doubts as to his credibility. One of those people was his ex-wife Nikki Benfatto. She claimed that Sujadin was a "pathological liar" and "infamous for making up stories," according to The Hill. At the time of the investigation, she told the Daily News,
He's seen the chupacabra. He's seen bigfoot. One of our friends who passed away, he saw him too, walking down the street.
In light of that, AMI reportedly released him of his contract after the 2016 election, according to The Hill.
Given the timing of the rumor and the decision to not run the piece, some Enquirer staffers were a little skeptical, according to the AP. They called it a "catch and kill," which is when a publication pays for a story so they have the rights to it but never runs it as a favor to the subject, or to use it as leverage over the subject.
Former Enquirer reporter and senior editor at AMI Jerry George told the AP that "AMI doesn't go around cutting checks for $30,000 and then not using the information."
According to the AP, Sujadin did not receive his payment immediately, as the company's standard practice is for the source to be paid upon publication. After Sujadin called in the tip to the Enquirer's tip line, he was given a boilerplate contact. The publication started their investigation and subjected Sujadin to a polygraph test. When he passed, that's when they reportedly gave him a new contract to the tune of $30,000 and the $1 million penalty. But after that, the Enquirer immediately stopped reporting, former Enquirer staffers told the AP. Sujadin, however, confirmed to the AP that he did receive his payment from the Enquirer.
In an April 12 statement Howard denied that the Enquirer would take part in buying information that was not intended to run, according to CNN. He said,
Paying for information has long been a practice of The National Enquirer and to suggest that it has only paid for, and not run, stories about any particular person is absurd. Fortunately, the First Amendment does not play politics.
There is no way to be certain of what went down between Sujadin and the Enquirer or why they chose not to run the story. There have also been no confirmed reports of the rumor. However, the Enquirer, not known for ever endorsing presidential candidates, did make its first-ever endorsement in 2016 and backed Trump for the White House.
When asked about the story and payment last year, Trump's lawyer Michael Cohen said that it was "wasted money for a baseless story," according to the AP.
As I mentioned above, Sujadin's claim that Trump reportedly fathered a child with a Trump World Tower housekeeper has not been confirmed. But this is something to keep on your Trump hush money radar, if you are keeping track.