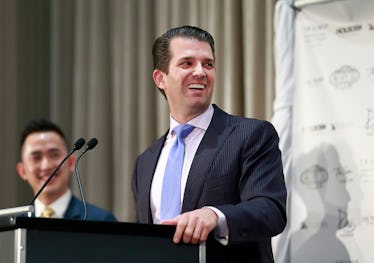 Donald Trump Jr. Dissed Luke Skywalker In A Bizarre Twitter Exchange
Jeff Vinnick/Getty Images News/Getty Images
On Dec. 17, a series of odd Twitter exchanges happened when Donald Trump Jr. and Ted Cruz tweeted with Mark Hamill about net neutrality —sprinkled with lame Star Wars jokes — as they dissed each other. The Jedi riff started when Hamill, better known as Luke Skywalker, called the FCC chairman Ajit Pai "profoundly unworthy to wield a lightsaber," and Cruz referred to government regulations of the internet as the "dark side." Trump Jr. came to the Texas senator's defense, declaring that Cruz "kills Luke Skywalker once again."
Hamill initially criticized Pai's video on the Daily Caller, which attempted to make light of the FCC's decision by showing people all the things you can still do on the internet, like binge Star Wars. Hamill replied the video with a Star Wars reference, claiming that Pai was "unworthy" to wield a lightsaber.
After Hamill's initial tweet about Pai, Cruz replied, saying "Luke I know Hollywood can be confusing, but it was Vader who supported govt power over everything said & done on the Internet. That's why giant corps (Google, Facebook, Netflix) supported the FCC power grab of net neutrality. Reject the dark side: Free the net!"
The problem with Cruz's "diss tweet" was that it was directed at the wrong Hamill. Cruz tweeted to an account called @HammillHimself, instead of Hamill's real account, @HamillHimself. If you're going to start a Twitter fight, at least make sure you have the right guy, Ted.
Cruz and Hamill are referring to the FCC's Dec. 14 vote to repeal former President Barack Obama's net neutrality regulations, which previously blocked internet service providers from having the power to pick and choose what content we see on the internet, and the speed at which we can see it. There has been a great deal of pushback from the FCC's decision, including from FCC commissioner Mignon Clyburn, who said "the fight to save net neutrality does not end today."
Here's the initial exchange between Cruz and Hamill:
The real Hamill later replied to Cruz.
"Thanks for smarm-spaining it to me @tedcruz I know politics can be confusing, but you'd have more credibility if you spelled my name correctly. I mean IT'S RIGHT THERE IN FRONT OF YOU! Maybe you're just distracted from watching porn at the office again," Hamill wrote.
Hamill is referring to the "screw up" that happened on Sept. 12, when Cruz's staffer "accidentally hit the wrong button" on his Twitter account that liked an explicit pornographic video clip from an account called @SexuallPosts. The unnamed staffer who was responsible "had been dealt with" Cruz said in an interview with CNN.
What followed was Cruz's response — attempting a more straightforward debate — about why the FCC having power over the internet is "really bad."
Cruz said, "Rather than insults, try civil discussion of facts. Fact 1: until 2015, the FCC had NO authority over Internet. The Net grew free & unregulated. Fact 2: W/ 'net neutrality' the FCC declared power to regulate everything said & done on Internet. That's really bad for freedom."
On Sunday night, Trump Jr. jumped to his friend's defense and gave his contribution of Jedi jokes.
He tweeted, "Ted Cruz kills Luke Skywalker again... Jedi apparently no match for facts."
The feud wrapped up with Hamill's reply to Trump Jr. on Monday morning, which contained some not-so-subtle hashtags.
The tweet said, "#MayTheKGBWithYou, Fredo." along with #tRUMPutin and #RussiaGate.
The bizarre Twitter quips between Hamill, Cruz, and Trump Jr. are easy to brush off, but all Star Wars jokes aside, the substance of their debate — the internet and neutrality regulations — is way too concerning and significant to overlook.