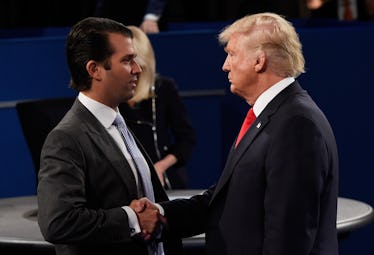 Donald Trump Jr. Retweeted Trump's Cinco De Mayo Taco Bowl Pic, & Can We Not?
Pool/Getty Images News/Getty Images
Is anyone else sitting around waiting to see what foolishness will come across their social media timeline next? First of all, same. Secondly, that time is finally here. (Sorry to disappoint you, but it's not a new Kanye West rant.) On May 5, 2018, Donald Trump Jr. retweeted Donald Trump's Cinco de Mayo taco bowl tweet from 2016, and it's probably more awkward than anything you've laid eyes on.
In the original tweet, President Donald Trump is shown sitting at a desk, preparing to devour a taco bowl, and giving a thumbs up in his office in celebration of the holiday two years prior. The now-president's caption read, "Happy #CincoDeMayo! The best taco bowls are made in Trump Tower Grill. I love Hispanics!"
Um, what.
Anyway, in the retweet, Donald Jr. wrote, "Perhaps the greatest tweet of all time." He continued, "He's right though, it's really good," apparently in reference to taco bowls in the Trump Tower. He topped off the post with three laughing emojis (I obviously missed the joke, but to each his own, I guess). Before we get into why the post is so problematic and awkward, go ahead and check it out for yourself.
There are so many things wrong with these tweets, you guys. First of all, Bustle notes that the reviews of the taco bowl from the Trump Tower Grill are extremely subpar. Second of all, if Donald Jr. thinks the post is the greatest tweet of all time, I just wanna know who he's following on Twitter to say such a hollow thing. Lastly, Trump has made so many disparaging comments about Hispanics that this whole thing is totally ironic.
Trump has proposed the idea of building a southern border wall between the United States and Mexico since he announced his run for the presidency (merely to keep out illegal immigrants). While it may seem like an understandable pledge for some, Trump's comments about Hispanics are the most upsetting and problematic.
For example, in 2015, Trump kicked off his presidential bid with some extremely offensive comments about Mexican immigrants, referring to them as "criminals" and "rapists." He said in a speech,
When Mexico sends its people, they're not sending their best. They're sending people that have lots of problems, and they're bringing those problems with us. They're bringing drugs. They're bringing crime. They're rapists. And some, I assume, are good people.
According to NBC News, he was later asked where he'd gotten that info from, which prompted him to respond by saying Border Patrol and "people that I deal with."
The same year, he took his comments a step further, alleging Mexico was purposefully sending "the bad ones" over the border. "The Mexican government is much smarter, much sharper, much more cunning," Trump said. "And they send the bad ones over because they don't want to pay for them. They don't want to take care of them."
While I would love for that to be the very last distasteful thing that Trump has said about Hispanics, it's honestly not even close. His comments date back to before he took office, like in 2013, when he blamed Blacks and Hispanics for violent crime across the country on Twitter. He wrote, "Sadly, the overwhelming amount of violent crime in our major cities is committed by blacks and hispanics-a tough subject-must be discussed."
Wow. Just... wow.
I'm a strong advocate for letting bygones by bygones — but when you have as many outrageous instances like these, it would probably be better for the Trumps to refrain from saying anything at all on Twitter... regardless of the occasion.