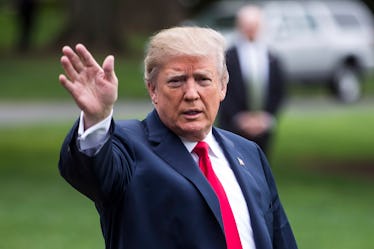 Air Force One Is Getting A Makeover By Donald Trump & IDK How To Feel
Zach Gibson/Getty Images News/Getty Images
Donald Trump: business mogul, president, and... designer? Apparently, Donald Trump is giving Air Force One a makeover, with big changes happening to both the inside and outside of the aircraft. So say goodbye to its iconic baby blue design, folks, and make way for a red, white, and blue paint scheme.
President Trump confirmed his plans to renovate the aircraft during a chat with CBS Evening News anchor Jeff Glor in Scotland on Tuesday, July 16. Trump will reportedly ditch Air Force One's traditional baby blue design, which was established in the '60s by President John F. Kennedy and first lady Jackie Kennedy, for more of a patriotic look.
"Air Force One is going to be incredible," explained Trump, according to CBS News. "It's gonna be the top of the line, the top in the world. And it's gonna be red, white and blue, which I think is appropriate."
The news comes after Trump met with Boeing CEO Dennis Muilenberg back in February to finalize a $4 billion deal for two 747 aircrafts as his Air Force One replacement. It was reportedly in that meeting when Trump said he wanted to give the presidential aircraft a makeover to make it, well, more presidential.
However, it could be years before the aircrafts are completed, with estimated completion dates looming around early 2021 — which is the end of Trump's first term in office. Therefore, the planes could likely only be used by presidents who come after Trump — unless he's reelected into office.
"I hate to say this, it's gonna be a long time," Trump added. "It's a very complex project. But by the time it gets built, you're gonna have many presidents, hopefully, use it and enjoy it."
Axios broke the news of the makeover on July 12, saying that Trump wanted a paint scheme that "looks more American" and isn't a "Jackie Kennedy color," because he doesn't believe its current color represents the United States. The outlet also said the president would like the aircrafts to be "larger and more comfortable" with bigger and better sleeping quarters like he has on his own personal plane, rather than the current, "couch-like sleeping configuration" on Air Force One.
While some people may argue that the upcoming renovations aren't a big deal, there are others who have already voiced their disapproval of changing the aircraft's decades-old signature hues. Like these Twitter users, who argued that the new color concepts just seemed too loud.
One person said the upgrades just seemed like a waste of money —
— which is a pretty legit concern, considering Trump had also expressed his disdain for the costs of the new 747s to replace Air Force One. In December 2016, he tweeted, "Boeing is building a brand new 747 Air Force One for future presidents, but costs are out of control, more than $4 billion. Cancel order!"
Evidently, Trump has had a change of heart since then, because it certainly seems like his mind is made up on these renovations.