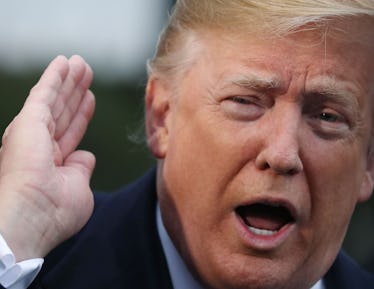 Donald Trump Skipped This Major Presidential Tradition Honoring Veterans Day
Mark Wilson/Getty Images News/Getty Images
As people across the country are remembering and honoring members of the troops for their service, on Monday, Nov. 12, Donald Trump didn't go to Arlington Cemetery to celebrate Veterans Day, per MSN. The news that the president is not making a public appearance or visit to the national veterans' cemetery comes after a weekend of backlash for the president's absence at another memorial event on Saturday. Elite Daily reached out to the White House for comment on the president's Monday plans but did not receive a response at time of publication.
Arlington National Cemetery was slated to hold an official public ceremony on Sunday, Nov. 11; however, the president was in Europe and thus unable to attend. But Trump didn't appear to make any makeup visit on Monday, though it's customary for presidents to visit the cemetery.
Though he's not the first president to get the same treatment (President Barack Obama, back in 2010, came under fire for not attending Arlington's Memorial Day celebration that year), Trump was already in hot water going into the week after a bumpy appearance abroad over the weekend.
The president and first lady were in the French capital on Saturday and Sunday to mark the 100th anniversary of the end of World War I, but cancelled a scheduled visit Saturday to an American military cemetery outside Paris, prompting swift backlash from many on social media. Per reports, the White House said the decision was based on the presidential Marine One helicopter's inability to fly in rain or fog; Press Secretary Sarah Huckabee Sanders later added that the president also decided not to go by car to avoid causing traffic. While they did not attend the Saturday event, they did attend an event Sunday. The White House did not immediately respond to Elite Daily's questions regarding the cancelled visit.
The first lady shared a somber photo of herself and the president over the weekend, writing, "Today we remember the brave actions of our troops and those of our allies during WWI. Honored to be spending this day honoring heroes in Paris."
But Trump's weekend criticism extended into Monday as he arrived back on U.S. soil. Per a tweet by The Washington Post's Josh Dawsey, POTUS came back on Sunday night, and was seen holding hands with first lady Melania Trump as he arrived at the White House, but "did not answer shouted questions about his trip to Paris or revoking press credentials."
Per reports, the president has no plans to make any public appearances on Veterans Day; the White House on Monday apparently placed a "lid" on Trump's schedule, meaning that he wouldn't be out and about for the remainder of the day. This includes making a stop at the Arlington National Cemetery, one of the nation's biggest veteran cemeteries in nearby Virginia, Mic reports. Though the formal Arlington event was Sunday, people were apparently expecting that the president would visit Monday, given that the holiday was being observed on Nov. 12; a former White House staffer pointed out on Twitter that this was a tradition. The White House did not respond to Elite Daily's request for comment about any plans or scheduled events the president may have had for Monday.
On social media, a lot of people weren't happy.
The president, however, has been active on Twitter all day — and has been turning heads for this alone. In a Monday tweet, the president commented on the elections in Florida, where the races for Senate between Democrat Bill Nelson and Republican Rick Scott, as well as for governor between Republican Ron DeSantis and Democrat Andrew Gillum, are still undecided.
Many took his tweet to mean he was opposed to counting ballots from overseas voters this late after the election; but many pointed out that such voters — including service members — often have extended deadlines in which to return absentee ballots, depending on the state, with some states giving absentee voters up to 10 days after an election to return a ballot. The White House had not returned Elite Daily's request for comment on the president's tweets at time of publication.
It's not the first year Trump has drawn criticism for how he's moved to honor veterans. "Veterans Day throwback to 2016: @realdonaldtrump's campaign said he'd donated $1M to veterans. That was false. He'd given nothing," Washington Post reporter David Fahrenthold tweeted Monday, adding that the donation was apparently completed four months later. Elite Daily reached out to the White House for comment on the issue, but did not immediately hear back.
The president did issue a tweet late Sunday night with a video marking the 100th anniversary of World War I's end. It remains unclear whether the president on Monday, though, will do much else to honor the holiday on American soil other than via Twitter.