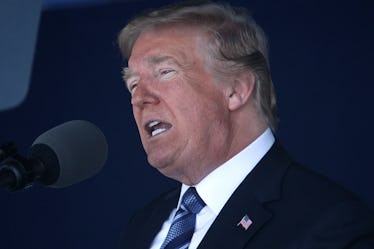 Donald Trump Is Starting A Feud With JAY-Z Now, Because This Is 2018
Alex Wong/Getty Images News/Getty Images
I interrupt your workday to give you the scoop about yet another one of President Donald Trump's new feuds. On May 29, Trump called out JAY-Z over his "filthy" language during a 2016 performance at a campaign rally for presidential candidate Hillary Clinton, and — considering Trump's own potty mouth — it's all ironic AF. Go ahead and brace yourself, 'cause there's a lot to take in.
Trump slammed the 4:44 rapper during a campaign rally in Nashville, Tennessee on the evening of May 29, 2018, according to The Hill. Apparently, Trump is still bothered by JAY-Z's use of profanity in his performance from almost two years ago (and about the size of the crowd the rapper attracted). He reportedly said, "The only way [Hillary] filled up the arena was to get JAY-Z. And his language was so filthy that it made me, like, the most clean-cut human being on earth. It's true."
Trump continued,
He'd stand up there before those crowds, and by the way, without any musical instruments, I had much bigger crowds than he was drawing. But he'd stand up before those crowds, and he'd use the F word and Hillary would sit back [and go], 'Oh I'm in trouble, oy, please don't have him use that kind of language anymore,' and then he'd finish, and everybody would leave, and she'd be standing up making a speech to 400 people.
I don't know what your immediate thoughts on this are, but — with all of Trump's racy comments over the years — I'm not sure if there's any JAY-Z lyric out there that would make him look like the "most clean-cut" person anywhere. Clearly, Trump needs to be reminded of some of his most controversial comments, and thankfully, Twitter users hopped online to give him a refresher.
Two users pointed out one of Trump's most troubling comments to date, IMO, in which he bragged about kissing, groping and trying to have sex with women in a recorded conversation from 2005. His remarks resurfaced in October 2016 (about a month before the presidential election), and saddled Trump with sharp criticism, including calls to drop out of the race.
JAY-Z's performance at Clinton's campaign rally took place on Nov. 4, 2016, about a month after the audio of Trump's sexually aggressive rant surfaced, but Trump appeared to be more upset by the rapper's comments than his own. He even said he had never said anything remotely close to the rapper's language in his life.
"He used every word in the book last night," Trump said on Nov. 5, 2016, per CNN. "He used language last night that was so bad and then Hillary said, 'I did not like Donald Trump's lewd language.' My lewd language. I tell you what, I've never said what he said in my life."
Riiiiight...
Anyway, although Trump continues to harp over the outcome of the election and his issues with JAY-Z, the musician praised Trump's win, saying it was "actually a great thing" during an appearance on My Next Guest Needs No Introduction that aired on Netflix back in April. According to JAY, the silver lining in Trump's victory is that it's forced Americans to have a dialogue about race that many people had overlooked before the business mogul entered the White House.
He added, per the Huffington Post,
What he's forcing people to do is have a conversation and people to band together and work together. Like, you can't really address something that's not revealed. He's bringing out an ugly side of America that we wanted to believe was gone and it's still here. We still gotta deal with it.
I get what JAY-Z meant, but at this point, it seems like the only one doing this most talking on any subject is Trump. He doesn't appear to be letting go of this beef any time soon, either. But perhaps, JAY will just learn to ignore this whole thing and Trump'll forget in due time. Hey, anything's possible.