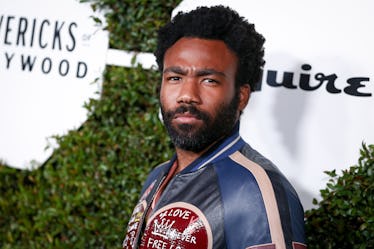 Donald Glover's 'Deadpool' Script Was Shared On Twitter & For A Good Reason
Rich Fury/Getty Images Entertainment/Getty Images
I'm not a huge superhero fan, so I was shocked when I saw Deadpool and absolutely loved it (OK, Ryan Reynolds definitely helped). It's unlike me to get into Marvel franchises, but I'm actually excited for Deadpool 2, and I was looking forward to seeing Donald Glover put his spin on the character in a new FX animated series. Unfortunately, that series is no longer happening, and on Wednesday, Donald Glover's Deadpool script was shared on Twitter in an attempt by the writer/director/actor to explain why the deal went south. According to FX, the show fell apart "due to creative differences," but Glover explains the fallout in a much different way, citing "racism" as the key issue.
Glover doesn't tweet much, but he broke that habit on Wednesday to set the record straight about what went down between him, his brother Stephen Glover, and FX. "For the record, I wasn't too busy to work on deadpool," he wrote, clapping back at speculation that his busy schedule led to the show falling apart. Glover is currently finishing production on Atlanta, his Emmy-winning FX show, and he will appear in Solo: A Star Wars Story and the new Lion King movie as the voice of Simba.
Glover then shared a 15-page script for a potential "Finale" episode, in which Deadpool guards the world's last male northern white rhino, Sudan, and questions why the show was cancelled. Glover definitely captures Deadpool's signature voice in the script, and while Sudan doesn't make for a super talkative partner, he's a great sounding board for the superhero to bounce ideas off of. As the two wander through the African plains, Deadpool wonders aloud why FX decided to axe his show:
Do you think they cancelled the show... cause of racism?! Yeah, all the writers were black. And the references were pretty black too. I heard they went over the lunch budget ordering Jamaican food at least once a week.
Marvel and FX declined to comment.
As Deadpool grapples with whether the show could have possibly alienated its white audience or angered Marvel too much (and Sudan scratches his butt on trees and eats grass, as rhinos do), the superhero makes a meta-commentary on the TV industry that is clearly coming from Glover himself:
It just feels like everyone wants something different, but no one wants to do anything different to get it. Doesn't Marvel have enough feel-good minority shows everyone supports but doesn't watch?I mean, I think our show woulda been funny. I just wanted a place to be honest.
In Glover's script, Deadpool begins tearing up, then adds:
And I guess that place is Freeform.
Glover's script is beyond hilarious, so it's sad that he and FX couldn't make this project work. And considering the immense support that the Deadpool animated series first received from FX execs, it's a little surprising, too. In May 2017, the show was picked up with a 10-episode straight to series order, something you only give a show and a creator that you really trust. And in August 2017, FX president John Landgraf told reporters that he was happy to have Glover on board the project, insisting that the star's involvement would give the series "a different tone and editorial voice." He continued, "We really wanted to make something that was distinctly different from the movie." Maybe what Glover produced was just a little too different?
The world may not be getting a Donald Glover-led Deadpool animated series any time soon, but at least we'll have this one amazing script. I mean, when's the next time you'll see the Beyonce bite-gate investigation worked into a superhero script?
The answer is never, that's when.