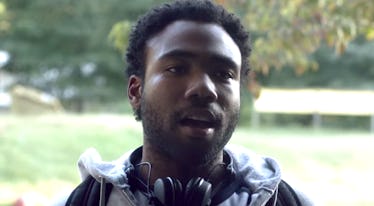 Donald Glover Says Each Season Of 'Atlanta' Reflects One Of Kanye West's Albums
FX
It turns out, Keeping Up with the Kardashians is not the only major TV show that Kanye West has a massive influence on. After the news that his critically acclaimed FX series Atlanta had been picked up for a third season, creator and star Donald Glover shared one of his surprising inspirations for the show: Kanye West's discography. Donald Glover said Kanye West's albums influenced Atlanta in how each season takes shape, and revealed which album Season 3 will be most like.
Donald Glover opened up about Kanye West's influence on Atlanta at an Emmys For Your Consideration panel over the weekend, saying that each season of the series aligns with one of West's albums. Glover went on to say that the upcoming third season specifically reflects a lot of what he gets from West's third album Graduation, saying that the new season is as accessible and honest as West was on that record:
I align the seasons I think, to me, like Kanye records. I feel like this is our 'Graduation.' This is probably our most accessible but also the realest — an honest version of it — and I feel like the most enjoyable, like the third album.
What might this tell us about Atlanta Season 3, which is not set to premiere until next year? As Donald Glover said, Graduation is considered one of the most mainstream accessible releases of Kanye West's early years. Rather than the soul-influenced rap of his first two records, 2007's Graduation saw West begin to experiment with heavily produced synth beats and vocoders, inspired by electronic house music. The album is most notably represented by its single "Stronger," a Daft Punk-sampling love letter to electronica that was credited with the genre's notable resurgence within hip hop in the late 2000s.
Donald Glover's comparison may be hinting that Atlanta Season 3 could also make a surprising genre jump, similar to what Kanye West did with Graduation. The revelation that Glover aligns each season with Atlanta with a Kanye West album also creates some interesting parallels to think about with Season 1 and Season 2. You can see how Glover might compare the frenetic, oddball energy of Season 1 — which included a black Justin Bieber and an entirely commercial-filled episode — with Kanye's skit-filled first album The College Dropout. And then there's Atlanta's darker and more reflective second season, in which Paper Boi and company are forced to come to terms with the unexpected downsides to newfound fame, much like West did on his broodier sophomore album Late Registration.
The second season of Atlanta concluded last month, leaving things up in the air for Donald Glover's character of Earn. In the season finale, Earn learned that Van was taking his daughter Lottie to live with her mom in order to better afford gifted schooling for her. He also was on the verge of being fired by Paper Boi, until his cousin saw him planting a gun in the bag of rival rapper Clark County before boarding an airplane, only for Clark's manager to take the fall for him. The season ended with Earn, Paper Boi, and Darius flying overseas on tour with a headliner who is probably pretty suspicious of his supporting act after that gun stunt.
It will definitely be interesting to see where Season 3 goes from there, and how it will be similar to Kanye West's Graduation. The comparison is also something for fans to keep in mind as the show continues: like, how might Season 4 of Atlanta be similar to West's fully synthpop fourth album 808s & Heartbreak?
Atlanta Season 3 will premiere on FX sometime in 2019.