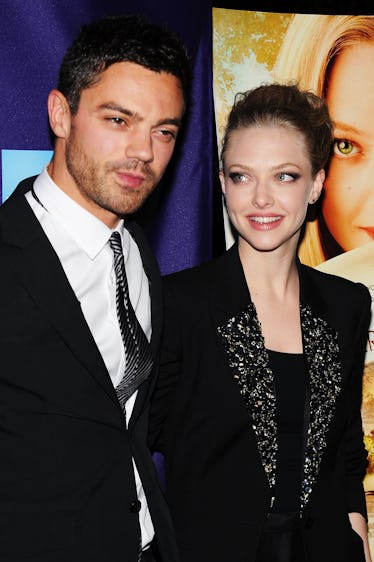 Dominic Cooper Got Real About Working With His Ex Amanda Seyfried Again & He's Beyond Sweet
Bryan Bedder/Getty Images Entertainment/Getty Images
Fans everywhere rejoiced when they learned Mamma Mia! Here We Go Again was happening. Much to everyone's delight, the highly-anticipated sequel to the 2008 hit Mamma Mia! brought its original cast back together, including Dominic Cooper and Amanda Seyfried, who happens to be his ex-girlfriend. While working with an old flame may seem like a tough pill to swallow, Dominic Cooper's comments about working with his ex on Mamma Mia! are actually really sweet.
In a new interview with Attitude, Copper explained that he and Seyfried are still friends, even after their romance didn't pan out.
"She's a friend," he said. "It was always going to be OK. You just have to be delicate with those situations."
Cooper and Seyfried met on the set of the first Mamma Mia! film back in 2007. They went on to have a lengthy romance that lasted until 2011.
Both Cooper and Seyfried moved on from that romance. Cooper dated actress Ruth Negga for eight years before splitting with her in April 2018 (but he also stars alongside Negga in the AMC hit Preacher, so he's used to this whole working-with-your-ex thing, clearly). Seyfried married Thomas Sadoski in March 2017. The couple welcomed their first child just weeks after.
Seyfried's new family is one reason Cooper felt at ease working with her again.
"She's married now and has a beautiful child," Cooper told Attitude. "We knew we were going to be working together again on a set, going back to a part which was certainly going to remind us of 10 years earlier, but I know her family, I know her mum, who was there a lot."
The Preacher star also told Attitude that working on set with all his old castmates was pleasant and interesting.
"It was a pleasant atmosphere," he said. "It was really interesting to see how different our lives are after 10 years. It is a long time and it was nice to spend time with her."
While Cooper was completely cool about working with his ex, Seyfried's husband apparently had some reservations about the whole thing. On July 15, Mirror reported that Seyfried thought her husband was ill at ease prior to production.
"I think he has the same kind of issues that I would have if we were hanging out with his ex-girlfriend from long ago… I'd guess he assumed Dominic is in love with me the way he's in love with me. And it's just not the case," Seyfried said. Eventually, though, Cooper and Sadoski got along great.
"It's sweet," Seyfried continued. "I'd rather he be jealous than completely fine with it. He's been great. He's very supportive and he loves this movie, and he and Dominic got along absolutely fine when we were shooting."
So, as weird as that all sounds, it seems like Cooper, Seyfried, and Seyfried's husband were all really cool about the whole thing. And that's great because Mamma Mia! is a classic at this point. How sad would it have been if the world didn't get a good quality sequel because of some silly on-set love triangle of jealousy? Good on all three of them for being professional and mature about the situation!