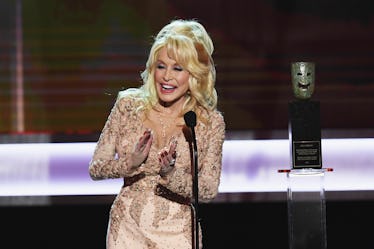 Dolly Parton Is Getting Her Own Netflix Show & I Can't Wait To Binge It
Kevin Winter/Getty Images Entertainment/Getty Images
Surprise: Dolly Parton is returning to TV with her very own show! The iconic country singer apparently has a series deal with Netflix, her friend and former 9 to 5 costar Lily Tomlin let slip over the weekend, and Tomlin also spilled some surprising details about what the new show is going to be about. Get pumped for Dolly Parton's new Netflix show by reading everything we know about it so far right here.
When the Grace & Frankie Emmy For-Your-Consideration panel began on Saturday, nobody knew that fans would also be getting some unexpected news about Lily Tomlin and Jane Fonda's 9 to 5 costar Dolly Parton, but Tomlin dropped the bomb after being asked whom she would love to have a guest star on Grace & Frankie. Naturally, Tomlin and Fonda's longtime friend Dolly Parton was the name everyone was waiting to hear, but Tomlin explained that Parton's schedule has gotten so busy that it is difficult to find the time for her to film a guest spot, especially now that she has "a big show deal" at Netflix:
We'd like to see Dolly and we keep hoping we'll work out a schedule, but she's just so busy. She does so many things, and now she has a big show deal herself at Netflix, so I don't know.
Wait, what!? That was news to everyone, since neither Netflix nor Dolly Parton's team have released any announcement about a new show. It sounds like Parton is joining her friends Lily Tomlin and Jane Fonda over on Netflix, and although Tomlin suggested that the new show deal may get in the way of a possible Grace & Frankie guest spot for Parton, it may actually end up doing the opposite once Parton joins the Netflix family.
Jane Fonda was just as surprised by the news of Dolly Parton's new show as the rest of the crowd, and Lily Tomlin went on to explain that the series would be based on Parton's catalogue of hit songs, similar to her 2015 made-for-TV biopic Coat of Many Colors and its Emmy-nominated 2016 follow-up Christmas of Many Colors: Circle of Love.
It's a show — Sam Haskell, her partner, they're going to do a series about Dolly's songs, like she did with Coat of Many Colors and all that stuff.
Lily Tomlin went on to confirm that Dolly Parton would not only be working behind the camera on her new show, but also act in the series "when it calls for her."
The new Netflix series will mark Dolly Parton's first regular television show in about thirty years, since her successful but short-lived 1987 variety show Dolly. Though better known for her music and film career, Parton also established herself as a staple on television back in the heyday of variety shows, and has continued to secure scene-stealing guest spots on popular TV shows up to this very day, including parts on Hannah Montana and Reba.
Obviously, details are still scarce about what Dolly Parton's Netflix series will look like, but as Lily Tomlin suggested, it will likely replicate the feel-good charm of her recent NBC made-for-TV movies, both of which wound up being incredibly successful for the network. It could also include some sort of reunion with Tomlin and Jane Fonda, the costars from Parton's very first film 9 to 5. The 1980 workplace comedy became a central part of all three actresses' careers, and bonds them to this day: Last year, Parton, Tomlin, and Fonda all reunited on stage at the Emmy Awards. Now that all three stars are going to be at Netflix, an on-screen reunion seems more likely than ever.